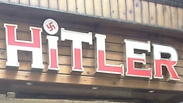 Hitler store sign in Cairo
Photo: Gulf News
Osama Farouq, the owner of a clothing store in a famous shopping promenade in central Cairo, has decided to name his shop "Hitler" after the infamous Nazi and employ a swastika as his logo. Farouq claims that he did not intend to offend.

The store is located on the pedestrian Shawarbi Street, nicknamed "Cairo's Champs Élysées." Farouq insists on the "innocuousness" of his branding and explained to Gulf News, "The name and the emblem drew my admiration, so I decided to put them up on the front of my store."

Farouq's choice has not been well-received by all. Egyptians and foreigners alike have criticized him, some spitting on the window. At least one person has attempted to remove his sign, but Farouq insists on retaining it.

Said the owner to Gulf News, "It's just a name. Why are people so angry? I have nothing to do with politics." The vicenarian insisted that he is a religious Muslim who believes in God.

Not all passersby are opposed to his shop, Farouq claimed: "Praise be to God, I have my own clients who come to the store because of the fine quality of my goods."

Farouq's sign is nearly identical to the former one at of an Indian store in Ahmedabad City in western India. In the summer of 2012, that city's small Jewish community and the Israeli Consul in Mumbai protested, and the clamor attracted the attention and condemnation of the Indian government and German and American diplomatic missions. That store owner eventually agreed to change the name.