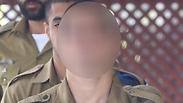 The Kfir Brigade soldier involved in the Hebron shooting incident
The Israeli and Palestinian pathologists ruled that the bullet shot by the soldier documented shooting already-neutralized terrorist Abed al Fatah a-Sharif was what caused the former's death and not the bullets shot at him during the attack in Hebron, officials involved in the investigations claimed Sunday.

The autopsy was completed at Sunday afternoon at the Abu Kabir Forensic Institute. The opinion of the pathologist Dr. Riad Ali was published as a statement of the Ministry of Palestinian prisoners.

Officials at the forensic institute refused to comment.

A military judge decided on Friday to uphold a previous ruling to release the Kfir Brigade soldier to a five-day open detention, rejecting an appeal of the decision by the Military Advocate General's Office.

The soldier has been arrested, though not yet charged. The prosecution initially said it was a murder investigation, but on Thursday prosecutors told a court they were looking into manslaughter charges.

The military prosecution argued against the decision, saying that he is not cooperating with investigators.

Chief military prosecutor Col. Sharon Zagagi-Pinhas said that "the evidence present a very clear picture of what happened, which bases the suspicions against him."

Col. Zagagi-Pinhas went on to say that "the soldier claimed several times during the investigation that the terrorist tried to reach for a knife that was 'within reach' of him, while the documentation in the video presents a different situation, in which the knife was a significant distance away from the terrorist, who was in serious condition as it is."

"The videos and testimony from the incident indicate that the neutralized terrorist posed no threat. However many movements the terrorist made, none of the other people at the scene, including the commanders standing next to the terrorist, were not alarmed by it and this speaks volumes," she concluded.