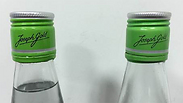 The real and the fake arak.
Photo: Ministry of Health
Ten people were arrested this week on suspicion of operating an arak bootlegging operation. The bootleg arak poses a public health risk, as methanol may have been added to it. Arak - an anise based liquor popular throughout the Levant - is similar in composition to sambuca or ouzo. Methanol is a toxic industrial material.

There are several ways to tell whether or not the arak you are buying is real. One way is to look at the label on the back. If there is a government warning on the back, it is real. The bootleg bottle meanwhile, does not contain this warning.

Additionally, when looking at the cap, a fake bottle of Elite Arak has a dark green vertical line n it, and the words "Joseph Gold" are written in a non-bold font. The real Elite Arak meanwhile has a bottle cap without the dark green vertical line, and and the writing is bolded.




Finally, if you look at the inside of the label on a bootleg bottle of Elite, there will be horizontal stripes. Meanwhile, a real bottle doesn't have these stripes at all.

During the covert police operation, Israel Police discovered a bottlegging ring in the north of the country which didn't implement any safety precautions in their manufacturing, and produced arak which was dubbed to be a public health hazard. Specifically, they were bootlegging "Elite Arak" brand alcohol. Laboratory tests proved that the bottles contained 2% methanol, which is toxic and, if consumed in large amounts, may cause blindness.

Alongside alcohol stills, hundreds of glass bottles were found in the suspects' house, and a label printer used to make the labels for the arak bottles. Bottles of the bootleg arak were found in corner stores in Tiberias, among other places.

A soap production facility was also found, apparently operated by members of the same group of suspects. It was apparently used for the manufacture of bootleg dish soap.