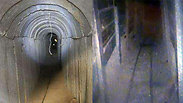 An old Hamas tunnel (left) and the new tunnel (right).
Photo: IDF Spokesperson
This is not the first time the IDF exposed a Hamas attack tunnel burrowing into Israel. This is, however, the first time it was done with the unique new technology that was developed and implemented here. The tunnel the IDF recently discovered was apparently dug after Operation Protective Edge's conclusion, and penetrated a few dozen meters into Israel, at a depth of about 30 meters. It seems that Hamas is digging its new tunnels in a zigzag pattern, with many divergent paths, in order to confuse Israeli forces. That way, when the IDF demolishes a tunnel, it's not entirely destroyed.

It is believed that once Hamas realizes the IDF discovered one of its tunnels, it will stop using it. Still, one of the concerns is that just as the Brussels terrorists feared an imminent discovery and attacked the Belgian capital - even though their original targets were in Paris - Hamas will try and use the tunnels it has now to preempt the possibility of losing these resources.


This likely wasn't the only tunnel, but so far there's no proof of a tunnel penetrating into the ground beneath an Israeli town. On the contrary – every case of digging noises has been investigated and dismissed. Keeping in mind that we shouldn't take this phenomenon lightly, there's also no point in panicking.

The tunnels that were discovered shortly before and after Protective Edge were not an existential threat to any town. They were mostly aimed at harming IDF forces on the home front. Hamas wants to abduct soldiers and use the tunnels to replicate its success from the kidnapping of Gilad Shalit. Attacking Israeli towns is a tertiary priority for it, but it exists nonetheless, and the very idea of Hamas tunneling into our territory hurts the Gaza border residents' sense of security. A routine cannot exist without the feeling of safety, and neither can a decent quality of life, which makes it necessary to handle the underground threat.

The tunnel discovery systems were developed by several groups of scientists, engineers, and technicians at the request of the defense establishment, but have yet to fully mature. The tunnel threat is still here. The level of protection provided by the new systems is not yet the equivalent to that of the Iron Dome missile defense system, but you can compare the achievements they've had so far to the first successful trial runs of Iron Dome.

There's only one place in the world that currently has an active and functional tunnel-discovery system. The South Koreans discovered several tunnels, which crossed the border, dug by the North Koreans. A whole infantry division could fit through them in short order. Those were very large tunnels, dug for years through rocky terrain, and that makes a big difference as far as their location is concerned. Digging an underground tunnel through solid rock creates a lot of noise, which aids in discovering and locating the digging sites via sensitive sensors that can detect both vibrations and sound.

In contrast, the land around the Gaza border is soft, comprised of a mixture of sand and red soil that can be dug through fairly easily and silently. The implementation of the partially-operational South Korean technology here was not really possible, which is why so much time and money were required before a promising first step could be taken.
Life-saving, just as much as medical science
Similar to the Iron Dome system, it is now necessary to implement scientific solutions and develop systems that will augment our vast combat experience. Faced with rocket fire, our capabilities have improved by dozens or even hundreds of percentage points. This is what must happen now. Rather than pat ourselves on the back for our successes, it is essential that we utilize that which we already have and continue to develop.

There are two lessons to be leaned here:

The first: When the defense establishment and the State of Israel know how to define the problem and are prepared to invest scientific, engineering and intelligence efforts into solving it - they create groundbreaking successes. The problem is always recognizing a specific danger in a given phenomenon and recognizing the threat it poses, not only to people's physical security, but also to their sense of safety.

The second: We need to invest in education, especially encouraging excellence in exact sciences. It can save just as many lives as medicine can.

In conclusion, it is important to highlight once again that we are not quite there yet, but we are quite close. We can only hope that those capable of developing groundbreaking technology will double their efforts and that the government will provide them with all the financial resources and necessary conditions to expedite technological development and implement it in facilities and in the field.

By doing so, the defense establishment will be free to deal with more pressing issues such as the firing of mortars from the Gaza Strip and from Lebanon towards Israeli towns on their respective borders.

This is the next objective. Intercepting mortars is no less important than intercepting tunnels. In my opinion, it is even more so.