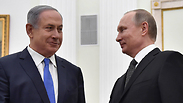 Netanyahu and Putin meet at the Kremlin
Photo: AFP
Prime Minister Benjamin Netanyahu told Russian President Vladimir Putin at the beginning of their meeting on Thursday that the Golan Heights is a "red line" for Israel and it must remain a part of it.
"We are doing everything to prevent the emergence of an additional front of terror against us at the Golan Heights," he added.
Netanyahu arrived to Moscow to discuss closer military coordination to avoid incidents between Israel and Russia, which launched a military operation in support of Syrian President Bashar Assad last year.
The issue of the Golan Heights has become a contentious issue over the past week after Netanyahu declared at a special government meeting held in the Golan that the area will forever remain part of Israel and urged the international community "to recognize finally that the Golan will remain permanently under Israeli sovereignty."
Israel captured the Golan Heights in the 1967 Six-Day War and officially annexed it in 1981, in a move that has not won international recognition. Now, Israel is worried that it will be asked to return the Golan to Syria as part of an effort led by world powers to bring the civil war in the country to an end.
"In the 19 years the Golan was under Syrian occupation, it was used for bunkers, barbed wire fences, landmines, and aggression. It was used for war. In the 49 years it has been under Israeli rule, it has been used for agriculture, tourism, economic initiatives, construction. It is being used for peace," Netanyahu said.
The prime minister's declaration received condemnation from the Arab League and from Syria, as well as from the United States and European Union.
"Every administration on both sides of the aisle since 1967 has maintained that those territories are not part of Israel," US State Department Spokesman John Kirby told reporters this week.
Kirby went on to say that the conditions under which the Golan Heights should be returned must be decided through negotiations between the respective parties. "And obviously, the current situation in Syria makes it difficult to continue those efforts at this time," Kirby said.
A day later, EU foreign policy chief Federica Mogherini reiterated that "The EU recognizes Israel within its pre-1967 boundaries, regardless of the (Israeli) government's claims on other areas, until a final settlement is reached."