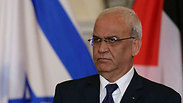 הבית הלבן ג'ון קרי ציפי לבני סאיב עריקאת פתיחת המשא ומתן
Photo: AFP
Israel rejected the Palestinian Authority's request to stop all military operations in Area A as part of a possible solution to the Israeli-Palestinian conflict PLO Chairman Saeb Erekat claimed on Thursday.

The statement was made a few hours after Israeli Prime Minister Benjamin Netanyahu reported that he rejected the French peace initiative.

Netanyahu said that "Israel believes that the best solution to the conflict is direct, bilateral negotiations. Israel is ready to begin these negotiations immediately, with no preconditions or any other initiatives which will keep the Palestinians from coming to the negotiating table."

Erekat responded harshly to the Prime Minister's statement, and also to the fact that Israel refuses to cease operations in Area A of the West Bank.

"This is a ratification of the Israeli government's decision to continue on with their crimes and offenses," Erekat said.

He continued, saying "the call for bilateral negotiations by the Israeli government isn't a call to come to an agreement for two states, but is an attempt to legitimize the development of the settlements, and is coercion by an apartheid government."

Erekat called on the French government and on the rest of the international community to take immediate steps to give peace a chance.

"We will continue to support the French initiative and the convening of an international peace conference. We once more call on the world to work to keep to the two state solution, including the recognition of a Palestinian state, and to continue to boycott products produced in the settlements which supports the occupation."