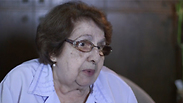 On Tuesday, after decades, and with the aid of a technological innovation using an old family tree in her home, Nata Gattegno, a Holocaust survivor who has lived for years on her own and was left barren following severe abuse in Auschwitz, discovered many relatives she has never met and never knew of her story. "It's very exciting to discover that I am not alone," she said. "This is a unique surprise; they are welcome to come and visit at any time."
First impressions can be misleading, and in the case of Gattegno is it very easy to be confused. She is 93 years old, but looks and sounds young for her age. The walls of her living room and her bureau display many photographs of what appears to be family. Old black-and-white photographs of adults and color photographs of smiling children alongside her. The drawer under the television on which she watches soap operas every day contains children's toys and games, for when they will come to visit.
Video: Assaf Kamar (כתב: אסף קמר, צילום: אסף מגל, עריכה: דפי מקל)
Nothing reveals the fact that she is alone. When MyHeritage, a start-up specializing in family trees, contacted her in the course of research on the Jewish community of Corfu, she showed the photographs of her parents who had perished in the Holocaust, and then silence prevailed for a moment. "And what are the names of your grandchildren?" She responded, "These are not my grandchildren; unfortunately, God didn't grant me the ability to bear children."

Gattegno recorded the difficult story of her life in memoirs that she composed many years ago. "From Corfu to Birkenau and to Jerusalem" is the title of her personal memoirs. She noted, "All the answers to questions about my life are inside." The memoirs describe three locations and three parallel universes: her birthplace, the place where her ability to bear children was taken from her, and the place where she chose to live her life.
"I was offered escape, but I chose to stay with my family"
Gattegno was born in 1922 in a small house adjacent to the Palaiologos Lane in Corfu, the daughter of the tailor Elio Osmo and his wife Esther. Her original name given to her by her parents was Eftyhia (meaning "luck"), but already in her childhood she was referred to by the nickname Nata (nickname of "Fortunata"). When she was 16 years old, her older brother died of an illness. Nata, the next sibling, assumed his position as the eldest. Her new place in the family structure played a central role in the tragedy that befell her family.

She recalls well the moment war broke out. "On one of the days in October 1940, a teacher came into the class and announced, 'War has broken out, studies are ceasing.' From the perspective of the children it was a war between Italy and Greece, no one imagined that this was related to the Jews in any way. We also identified with the Greeks when the war broke out. We were Jews who dreamed of coming to Zion, but also Greeks with a love for our homeland."

In September 1943, when the Germans conquered the island from the Italians, the attitude to the Jews in Corfu changed drastically. While Nata's two sisters, Judith and Irena, managed to flee, ultimately marrying the two Christian Greeks who saved them and remained in Greece, Nata, the oldest sibling remained beside her parents. The manager of the municipal library offered to claim she was his daughter, thus securing her release. "I thanked him, but said I would not leave my parents," she said.

The Germans cruelly and violently led the Jews by tunnels to large rafts. Nata, her parents and her youngest sister, Rachelle, boarded the raft knowing that this was likely the last time they would ever see Corfu. "I thought, 'Goodbye Corfu – I will no longer long for you,'" she recalls. And thus began the long journey to Auschwitz.

Nata had further opportunities to escape. At Patras and Haidari, two of the ports on the journey to the railway station, partisans tried to help her escape. However Nata, ever faithful to her parents, chose to decline. "An Italian soldier who guarded us suggested I flee, he said that he will look the other way and I can run to a certain house where the locals will hide me. I asked, 'Is it possible to save three more with me?', but he said no. I politely declined and thanked him. He mumbled, 'Stupida,' turned around and walked away."
"Had you been here a week ago they would have conducted experiments on you"
"When I was in Auschwitz, I regretted not having the courage to try to save myself, but if I would have, my conscience would have haunted me for the rest of my life."

Nata remembers the night the train arrived at Auschwitz in the utmost detail. My father wept a great deal and lost control. We were taken from the train carriages under bright spotlights and barking dogs, men and women were separated. I held the hands of my mother and sister, but a German soldier wrenched me from them and pushed me to the groups of the young women. My parents and Rachelle shouted out in anguish. That was the last time I saw my family. Apparently already that night they were executed together with the majority of the dear Jews of Corfu."




A young woman with a shaved head immediately explained to Nata where she was. "You are lucky," she said. "You are pretty, last week they took 100 girls from Greece to Block 10 for experiments; had you been here a week ago they would also have taken you. Say thanks for being saved."

Nata was enlisted to the Hauskommando 555, responsible for cutting trees near the adjacent river. She would often be overcome by complete exhaustion, and when objects would slip from her hands she would be beaten brutally by the German guards. "On one of the days an SS officer approached me and said, 'Are you a Jewess? Come here.' I said, 'I am a Jewess, I am a Jewess!' He instructed me to bend over and he whipped my back. I was whipped 25 times on that horrific day. He kept hitting me, and I said to myself, 'If I die, at least I would die as a courageous Jew.'" As a result of the beating she lost consciousness for a number of days. She woke up in the hospital of Auschwitz-Birkenau with fractures throughout her whole body, including a fractured coccyx. Later it was established that it was this beating that had permanently taken away her ability to bear children.
"You are lucky the Germans did not manage to activate the ovens"
Toward the end of the war she was again sent in freight trains to the Mauthausen Concentration Camp in Austria. The journey lasted 17 days without food or water, and every day the Jews had to empty the boxcars of the corpses of those who did not survive. At the end of the trip she lost consciousness, and when she awoke she found herself in the hands of a soldier. "I thought he was a German soldier, and after recovering from the shock and fear I said, 'Mamma mia, gesund, gesund, arbeit (I am healthy to work).' The soldier asked, 'Do you speak Italian, girl?' I answered that I did. He responded that he is an Austrian soldier and the Germans had fled. It turns out that this soldier found me and took me out of the ovens. 'You are lucky the Germans did not manage to activate the ovens…'"




Nata's two sisters who remained in Corfu under false identities waited for her return at the end of the war. Despite the warm embrace she received from her sisters, Gattegno felt that her place was no longer in Corfu; the island was no longer her home. "I must find my happiness in the Land of Israel," she told her sisters, and immigrated to Israel on the illegal immigrant ship Haviva Reik.

In Israel she met Yisrael Gattegno, a Holocaust survivor from Thessaloniki. They married and established a family, however without children. "When I understood that I had no chance of giving birth, I wanted to adopt, but they refused and told me everything was okay with me and that I did not have any medical problems. When I returned at age 40, with a respectable profession as a manager at the bank and the desire to adopt children, the clerk at the municipality told me that at my age they no longer allow adoptions."
An ancient family tree became a technological innovation
Approximately a year and a half ago the story of the saving of a Jewish family from Corfu in the adjacent island of Ereikoussa was revealed. The people of MyHeritage who were involved in bringing this story to light decided to perform more extensive research on the Jewish community of Corfu and reveal additional stories that had never been told. Among all the material was an important and fascinating item that had been common in many of the Corfu Jews' homes: a family tree in the form of a sun; circles within circles. Each circle represented a generation with the internal circle having the founding parents, and the external circles with the living offspring. Each person had his own segment that differed in size in relation to the number of his offspring.

This family tree, handwritten and sketched by means of a compass, was identical in structure across all the families. It appears that they all originated from the same source, with minor adjustments. The Corfu community had essentially been one large family where marriages had been kept within the family in order to maintain the Judaism of its members.

When Gattegno invited the people of MyHeritage to observe the memorial room to the Jews of Corfu that she had established, entirely on her own, in her bedroom, they were excited to see the sun family tree on the wall. Her family tree included new information on hundreds of people. The CEO and founder of MyHeritage, Gilad Japhet, who was personally conducting the comprehensive research, took the rich information that was in this unique tree and cross-checked it with other information sources. As a result of this study, which lasted a number of weeks, Gattegno's original family tree was doubled in size, and it now includes approximately 800 people – all of whom are the descendants of one patriarch, Salomon Staraki Levi of Corfu.

After years of specializing in genealogy and the construction of advanced models for representing family trees, Japhet understood that the traditional tree model that had been passed through the generations of the Corfu community had a brilliant internal logic. "The structure of this tree that was probably invented by the Jews of Corfu, or of other Jewish communities in Europe hundreds of years ago, communities that have many older members who possess a family tree like this, proved to be the most spatially efficient," Japhet says. "We had never thought of this before encountering it through the Jews of Corfu. Very quickly we understood that not only does this research enable us to resurrect the history of this community, but also to develop a technological feature that allows presenting family history in the best manner."

Japhet and the company's developers began work, and within two months had developed a technological innovation – a digital sun-like tree chart, including photos, that is based precisely on the old sun family tree design that was hand-drawn by the members of the Corfu Jewish community in past centuries. Now, thanks to this ancient historical model, the chart is automatically generated based on algorithms that calculate the optimal position for each person in the circles, to create the smallest and clearest chart possible.
A new family
Approximately a month ago Nata's sister, Irena, passed away in Corfu. Nata, who observes Jewish traditions, observed the seven day"'shiva" mourning period in her home without a quorum, with only her devoted caregiver, Mauritas Collarine at her side. Nata spent the last Passover night at the home of a friend and her family, who for many years have brought Nata into their lives.

In the process of constructing the family tree, the people of MyHeritage discovered that the rich family tree they had constructed for Nata contained many relatives she had never met and who never knew her story. They contacted these relatives and shared the family details they had uncovered. Last week, they all came to Nata's home, who was astounded to discover relatives she had never met, and those with whom she had lost all contact many years previously.

At this reunion the people of MyHeritage revealed an enormous family tree measuring two meters in length, in the form of the new sun chart, on which all the relatives appear together. One after the other the family members leaned over to locate their names on the new sun chart and see their relation to Nata. "It is very exciting to discover I am not alone," Gattegno said. "There are lovely young people here, even a soldier. I am not young anymore, and it is a very unique surprise for a woman of my age."

Nata requested that this not be the last time they all meet. "I am unable to leave my home, but you are always welcome here. On weekends and holidays, come and visit me sometimes. Do not forget me." They all promised to come.