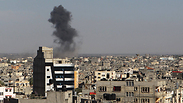 IAF attack in Gaza Strip
Photo: AFP
Hamas has agreed and committed itself again to a de-escalation on the border of Israel and Gaza, Ynet learned on Sunday morning.

A general agreement has been reached between the warring sides after tremendous mediation effort by international parties in recent days and a great number of messages exchanged via intermediaries.

Israel, for its part, removed its forces from the perimeter, a 100-meter wide "buffer zone" along the border and inside Gazan territory. Construction crews working on the border fence on Saturday did not did advance beyond that zone. However, it seems that the IDF will continue to operate in the perimeter and beyond it if necessary. Hamas's true test will be how they respond to the entry of IDF forces in such a case.

In recent days, Hamas has been pushing for and initiating talks to return calm. Egypt (via Egyptian intelligence officials), Qatar (via the head of the Qatari Committee for Reconstruction of Gaza, who has good relations with Israeli representatives), and the UN (via the United Nations Special Coordinator for the Middle East Peace Process) were all parties to these talks.

Prime Minister Benjamin Netanyahu did not address the reports of an agreement in comments he made Sunday morning. He said instead, "Israel will continue to operate as long as necessary to detect (tunnels) and thwart (attacks). We will spare no resources or efforts. Over the past two years, these (southern) cities have flourished. We are not looking for an escalation, but we will not be deterred from doing what is necessary to maintain security."

Hamas still needs deal with splinter groups in the Strip, who have felt during the past week that they have had a free hand to fire towards Israel. Hamas is trying to re-impose its authority over the area along the border in its efforts at a de-escalation.

In addition, Hamas is not monolithic, and there is growing internal tension between the political and military wings regarding IDF operations to uncover tunnels. This tension is likely to continue in the coming weeks. While the political wing currently has the upper hand, this does not guarantee that the military wing will hold its fire in the long term, especially if additional tunnels are exposed.

Large Hamas forces were deployed along the border with Israel, but the terror organization knows that this is a sensitive and complicated mission, especially in the first days after reaching an understanding.

Hamas's political wing indicated on Friday that it is not interested in a new war with Israel. Its deputy leady, Ismail Haniyeh, said "We are not calling for a new war, but we will not allow incursions or imposing facts on the ground by Israel in Gaza." This was his first comment on the escalation and the first time that he was seen in public since its beginning.

On the night between Friday and Saturday, a rocket was fired from Gaza towards Eshkol, leading the Israeli Air Force to attack two Hamas targets in the southern Gaza Strip in retaliation. Nobody was injured.