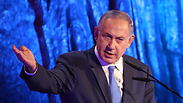 Prime Minister Netanyahu
Photo: Gil Yohanan
Political survival at the IDF's expense
Op-ed: The deputy IDF chief's message was the right one, but he chose the wrong place, time and perhaps historical analogy. Regardless, Netanyahu, who is acting more like a reality TV star than a leader, should not have jumped to publically undermine Maj.-Gen. Golan.
It's a bit problematic to compare the processes that led to mob mentality and brutalization in the German Weimar Republic early last century to what is happening in Israeli society today. The conditions are different, the circumstances are different, and in any case this is a matter for historians to deal with and research using the proper scientific methods. Regardless, neither I nor the deputy IDF chief, Maj.-Gen. Yair Golan, have the training nor the skills to make such decisive statements on the matter.

The timing Maj.-Gen. Golan chose to make his comments was problematic. The eve of Holocaust Remembrance Day - during a speech he's making as part of his role as the deputy IDF chief - is not exactly the place to make decisive statements on such a sensitive issue that is not within the purview of a military man.

Be that as it may, it is entirely clear to me, as it is to a considerable part of Israeli society, that the message Maj.-Gen. Golan sought to convey is the right one, and an appropriate one at that. Furthermore, as the deputy IDF chief, who is responsible for maintaining soldiers' motivation to fight, and at times even sacrifice their lives for a goal that is both moral and just, Yair Golan is qualified to say what he did, and was meant to say it.




The bottom line is that Golan chose the wrong place, time, and perhaps even the wrong historical analogy. The prime minister definitely had reason to show Golan up and perhaps even reprimand him for exceeding his authority.

In a civilized country, where there are rules and respect and grace - the prime minister would summon the defense minister, the IDF chief of staff, and Golan, firmly tell them what he thought of these comments, and then ask them to ensure that military officials - senior and junior alike - are more cautious with what they say on issues that are not directly related to the military's function and its values.

Netanyahu did exactly that, at first. He spoke to the defense minister and asked him to convey the message to Golan. And, indeed, the deputy IDF chief, after consulting with IDF chief Gadi Eisenkot, released a clarification through the IDF Spokesperson's Office.

But that wasn't the end of it. A gang of senior Likud officials led by Minister Miri Regev had yet to say its piece, and 48 hours later, the reality show that is Israeli politics went into high gear. At the government meeting two days ago, Regev called for Golan's dismissal, and, if possible – for him to be put him through a public hazing on his way out, as is the custom in reality TV.

The prime minister, who at first acted accordingly, did not, God forbid, try to swim against the current by insisting that the state's leadership is not a reality show. He gleefully joined in, with his deep, authoritative, bass voice, and followed suit. This is the same prime minister who regularly draws far-fetched historical comparisons, mostly on the Holocaust, as a scare tactic. Scare tactics, as you know, lead to electoral dividends. And in case you forgot, think back to the time Netanyahu portrayed Hitler as a groupie of a Palestinian cleric.

The same phenomenon, just with a different object, was the quick response of "Netanyahu's close circle" to the leaking of the State Comptroller's report about the failures of Operation Protective Edge. It very quickly turned out that "the prime minister's close circle," and likely Netanyahu himself as well, didn't even read the report draft that was leaked, so their tongue-lashing at the comptroller and his motives was premature. After those in Netanyahu's close circle read the report draft, they made a 180-degree turn. But whoever leaked the details from the report has already achieved his goal, essentially leading Netanyahu to admit blame that, at least in part, was not placed on him.

Why is Netanyahu doing this? The answer is simple: Political survival. That's the name of the game in reality TV, and this is the supreme goal of the prime minister, who is supposed to lead Israel on the eve of its 68th Independence Day to greener pastures and a better conduct. Rudeness, disrespect, and the lack of grace characterize the man who was supposed to be Ze'ev Jabotinsky's successor and who spent longer in the prime minister's seat than even David Ben-Gurion.

And he's not alone. In the United States there is a Republican candidate, Donald Trump, who allows himself to say and do just about anything, so long as he breaks his own records of vulgarity and rudeness for the sake of political ratings. Unlike Netanyahu, however, Donald Trump is a former reality TV star, and that is why he allows himself things Netanyahu is not yet doing.

In any case, there was no justification to publically undermine the deputy IDF chief for the mistake he made. It wasn't just the honor of Yair Golan the man that was wounded, but also his authority as a senior commander who sends people to battle.

Fortunately, the Israeli public has a short term memory. One scandal follows the next and this scandal will, probably, be forgotten along with many others. When the time comes to appoint a new IDF chief of staff to replace Eisenkot, this scandal will be brought back to the surface once more. But to my understanding, the other candidates for chief of staff each have their own baggage, and Golan's controversial statement is far from being the worst of them.

What is worrying is the fact that the prime minister of this country, which is celebrating 68 years to its establishment, is acting more like a reality TV star that is addicted to political ratings than the leader this nation truly deserves.