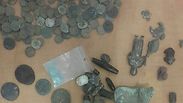 Hundreds of coins and statuettes from the Second Temple period were found by customs officials at the Allenby border crossing hidden in an official Norwegian Embassy in Israel vehicle. The find was discovered last Tuesday, and the driver of the vehicle was arrested.

Israeli customs officials discovered 22 pounds of worth of antiquities more than 2,000 years old being smuggled into Jordan by the driver. The driver himself is a Jordanian citizen living in the Beit Hanina neighborhood of Jerusalem, and has worked for the Norwegian Embassy for 16 years. He was released by the Jerusalem Magistrate's Court after two high ranking embassy officials signed off on him and paid a NIS 60,000 bail.

The Norwegian Embassy in Israel is known for funding far left NGOs such as Breaking the Silence

The antiquities, including coins which were minted during King Herod's reign, were found during a routine check as the vehicle was crossing from the West Bank into Jordan. The antiquities were found hidden in cardboard boxes in the side panels of the Norwegian Embassy Mercedes.

The driver, Issam Nagem, was arrested on suspicion of antiquities smuggling and money laundering. He was given limited release.