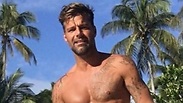 Ricky Martin is coming to Israel
This summer won't only see Beyoncé and Queen coming to perform in the Holy Land. Pop legend Ricky Martin is also expected to come to Israel to perform a concert at the Tel Aviv Sports Palace on September 14.

The concert was green lit a few days ago, and tickets are on sale now.

Martin was supposed to perform in Israel in 2006 although had to cancel. However, he promised that he would come back one day, and now, 10 years later, he's fulfilling that promise.

The 44-year-old Puerto Rican quickly became an international star after starting to perform over 20 years ago and grew to prominence after his first hit single Mariah hit the airwaives in 1995. His biggest hit, however, is 'Livin La Vida Loca,' which came out in 1999.

Tickets are on sale, and prices range from NIS 290 to NIS 1,250.