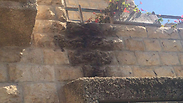 House attacked in Armon HaNatziv
Four Molotov cocktails were thrown at a house in the Jerusalem neighborhood of Armon HaNatziv Thursday night from Jabel Mukaber. One hit the house and the others caught the house's garden on fire.
Israel Police and Border Policemen were deployed to the scene and they arrested four suspects from Hebron for residing illegally in Israel. An investigation was opened to locate and arrest those who threw the Molotov cocktails.
Following the incident, and in accordance with the assessment of the security situation, it was decided to block a major road in Jabal Mukaber to vehicular traffic, and carry out a meticulous inspection of pedestrians passing by.
Moreover, police forces were reinforced in Jerusalem's Old City as the second Friday of Ramadan prayers were being held. Preparations included streets being blocked in the city center as well as in the Old City. During a an operational security status meeting, it was decided to continue not to limit the age of worshipers, in contrast to previous years.
Last Monday, Bilal Abu Ghanem from Jabel Mukaber, was convicted of killing three Israelis in an attack he carried out on a bus in Arman HaNatziv last October. He was also convicted of seven attempted murders and aiding the enemy during a war.