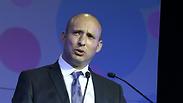 Following Defense Minister Avigdor Lieberman's announcement that he will vote against the Israel-Turkey reconciliation agreement when it is brought before the cabinet on Wednesday, Education Minister Naftali Bennett said on Tuesday morning that both he and Justice Minister Ayelet Shaked intend to oppose the deal.

For Bennett, one of the pimary sticking points involves Netanyahu's decision to award a compensation package of $21 million to the families of the Mavi Marmara flotilla activists. "The state cannot pay compensation to terrorists who tried to harm the IDF," said Bennett.

"Reconciliation with Turkey is important for this time and is in the interest of the State of Israel, but compensation to the perpetrators of terrorism is a dangerous precedent that the State of Israel will regret in the future," Bennett added. "If Turkey has control over Hamas, they had better do all within their ability to ensure that Oron Shaul and Hadar Goldin's bodies are returned to Israel."

Bennett's statements came after he was briefed on the details of the agreement by National Security Advisor Yaakov Negel. Bennett, who met on Tuesday with the Goldin and Shaul families, said that while the agreement does include a document relating to the missing soldiers' bodies, "it turns out that there is nothing substantive."

Bennett's comments follow a string of criticism voiced by a number of current and past ministers. Former Likud minister, Gideon Sa'ar, said that the compensation package was akin to the Palestinian Authority's funding of terrorists' families.

"When the PA pays money to the families of terrorists, we rightly protest. But according to this agreement with Turkey, Israel is planning to do precisely this," Sa'ar stated.

"There is no reason, no justice and no rationale behind 'compensation' packages to families of terrorists who tried to murder our soldiers on the Mavi Marmara... The terror flotilla came from Turkey and its activists were its citizens. Turkey is the one that should be paying compensation to Israel," he declared.

"To set a precedent where compensation is paid to the aggressor is not only a blow to national honor but also a serious strategic mistake for a state like Israel which struggles against terrorism which is far from over."

On Monday, a cabinet mininster voiced his disapproval of Netanyahu's agreeing to sign the deal on Tuesday, while only bringing it for the cabinet's approval on Wednesday. "This process amounts to contempt as the prime minister is presenting the cabinet with a fait accompli," the minister complained. "He is turning us into a rubber stamp."

As things currently stand, cabinet members Lieberman, Bennett and Shaked have made clear their intentions to oppose the agreement while Prime Minister Benjamin Netanyahu, Finance Minister Moshe Kahlon, Ministry of Construction Minister Yoav Galant. Yuval Steinitz, Energy and Water Resources Minister, has also signalled his intention to support the agreement while Transport Minister Yisrael Katz and Public Security Minister Gilad Erdan have yet to publicize their position.