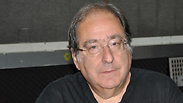 Israel Army Radio personality in racist tirade against Sephardim
After issuing a slew of racist epithets against Sephardim on his Facebook page, Gidi Orsher was suspended from his position on Army Radio. Orsher: 'Next time you have a heart attack, don't do the bypass operation. Instead, put a chicken foot on your head.'
Gidi Orsher, a film critic for Army Radio, is in hot water after posting a racist post against on his Facebook page, in which he claims that Sephardic and Mizrahi Jews reject integration and cling onto the past.

"From those who support Shas and (Finance Minister Moshe) Kahlon, all the way to those who are professional drivellers from the east; the next time you have a heart attack, don't do the bypass operation. Instead, put a chicken foot on your head. The next time you're hiding in a bomb shelter because rockets are falling on your heads, forget about Iron Dome, and instead start praying and wait for the matriarch Rachel to come protect you. The next time you're having trouble getting pregnant, avoid in-vitro at the hospital and go circle a holy man's tomb in the Galilee seven times," Orsher wrote.

He went on to say that "the next time you want to announce your festivities, get off the computer, ignore modern apps, and go back to writing on parchment and sending smoke signals and yelling (wait, you all already do that). The next time you sign a letter, you don't need to add the 'Doctor' title, which you don't believe in, from the university you despise."

"The next time you insult Western culture, which brought about all progress and success here, the next time you call any dissenting opinion 'arrogance' or 'racism' in order to inflame emotions and try to win a few more political points, put a rabbit's foot or baby's foreskin on your head and hope for a miracle. And wait. And wait," Orsher's vitriol continued.

The post was quickly met with outrage. Culture Minister Miri Regev called for Orsher to be fired, saying that "I went to the commander of Army Radio and requested that he immediately fire Gidi Orsher following his racist comments against Sephardic people, against the Jewish religion and Jewish customs, and against an entire public to which he doesn't belong but believes that he can openly despise."

"Gidi Orsher is one of the people opening up the Jerusalem Film Festival on Thursday, " Regev's post continued. "There will be all types of elitists there who seek to tear themselves away from the nation and want to create an elitist culture for themselves, completely homogenous, patronizing and alienating others. Orsher proves that this patronizing culture is deeply rooted in the media and amongst the Left. However, in my opinion, he's nothing."

Prime Minister Benjamin Netanyahu also criticized Orsher's post, saying his comments were "blatant smears," and deserve condemnation. "Someone with this type of dark and racist opinions doesn't deserve to be on public broadcasts in Israel," he said, continuing "we must work against these people who are trying to divide our country, and work together as a unified nation."

Orsher said in an interview that his statements were made as a result of anger that had been building up inside him for years. "It can't be that these people hold a hateful grudge against everything which we did herein the first years of the state. It can't be that they allow themselves to be so slanderous," he said.

He seemed genuinely surprised over the outrage his statements caused, saying he never had any of his posts cause such a reaction. He said he is also weighing the possibility of writing an apology or a clarification post.

Army Radio was quick to suspend Orsher from his position.

"There's no place for what he said, and we completely disapprove of (his statements). The station head spoke with him and expressed his contempt of the comments. As a public Israeli station, we will continue to work to promote the freedom of expression for the entirety of Israeli society," the station said.