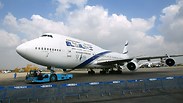 Photo: Gettyimages
Photo: Getty Images
El Al flights arriving late are nothing new, but the airline reached a new low for the month of June—the airline came in 40th place out of 40 airlines rated for how likely to be on time they were. The Israeli company had the most flights which were 15 minutes or more late.

The report was put out by Flightstats, considered to be the world leader in flight statistics and real-time airline flight reporting. The company looked at 2,667 El Al flights in the month of June, which constituted 87% of all El Al flights for that month. It turns out that 64 percent of the flights were delayed with an average delay of 45 minutes. In other words, El Al was only on time 36% of the time

The most on time airline was Japan Airlines (JAL) and All Nippon Airways (ANA), both of which are Japanese airlines. Following them was Qatar Airways, Iberia, Emirates, and KLM.

Flightstats also released its bi-annual report, whereby El Al was also ranked the least on time airline in the world. Only 47 percent of El Al flights arrived on time since January of 2016. The average delay was 45 minutes. Tying for last place alongside El Al is Pakistan Airlines.

The airline ranking company comes out with a report on world airlines and every year, and ranks the airlines according to different categories: world airlines, major airlines, airlines according to region, and low cost airlines.

Japan Airlines was on time 88 percent of the time over the course of the past six months, as was Iberia. They are the two airlines with the most on time arrivals so far in 2016.

While its possible to blame the lateness on the recent spate of pilot strikes El Al has been facing, further investigation reveals that El Al has been ranked at or near the bottom in terms of on time arrivals since before the strikes began, way back in September of 2015.

When asked for comment, the company replied, "We are sorry to say that recently El Al has come under sanctions which disrupt the operations and daily flights of the company. We are constantly working to prevent late arrivals and to bring travelers safely to their destinations."