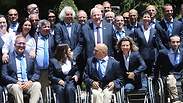 Rivlin and Regev meet with the delegation
Photo: Alex Kolomoisky
Israeli delegation meets with Rivlin before departing to Rio Olympics
Israel sends its biggest delegation yet with 47 athletes; rhythmic gymnast Neta Rivkin selected to hold the Israeli flag at the opening ceremony; 'We believe in you and know that you can and will return home with Olympic medals,' Rivlin tells athletes.
The Israeli Olympic and Paralympic delegations met with President Reuven Rivlin at the President's Residence this week before departing to Rio de Janeiro in Brazil where they will compete in the 2016 Olympic Games.

"I can see that you are calm but alert, ready for any challenge," President Rivlin told the athletes. "Your preparation has been superb, and now is the time to reap the fruit of your efforts. We believe in you and know that you can and will return home with Olympic medals."

Culture and Sports Minister Miri Regev talked about countries that do not recognize Israel and do not permit their athletes to compete against Israelis.



"Unfortunately, there are countries even today that exploit the Olympic Games for political gain and discriminate against Israeli athletes," she lamented. "This represents the new anti-Semitism and we need to fight it. When you are at the fields and halls of the (Olympic) events, remember that an entire country back at home is praying for your success."

Israel's Olympic team is the biggest in its history with 47 athletes and will compete in many of the various sporting events held at the Games.

"We are a small team compared to other countries, but we have quality and are determined," Israeli Olympic Committee President Igal Carmi said at the event. "I am very proud of the Israeli team. We are ready to compete at the highest levels."

Rhythmic gymnast Neta Rivkin was selected on Tuesday to hold the Israeli flag at the opening ceremony of the Olympics. The 2016 games will be her third as she competed at both London and Beijing.

"When I was told I would be holding the flag, I felt I was fulfilling another personal dream," she said. "On behalf of all the athletes, I can promise that we will all do our very best. We all want to bring moments of joy to the Israeli people."

The Paralympic Games will kick off in Rio two weeks after the end of the Olympic Games. They will be held at the same facilities and under the same governing council. The Israeli delegation to these Games includes 30 athletes, both Jews and Arabs, and for the first time in history, half of them are women.

"Israel is a pioneer of Paralympic sports worldwide," contended Rivlin. "You brought us the most medals in previous games, and the delegation will be a pioneering one this year as well, with Jewish and Arab representatives. You give us hope and lots of Israeli pride."

Reprinted with permission from the Tazpit Press Service (TPS).