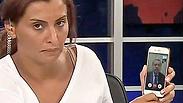 Hande Firat's FaceTime interview with Erdogan
A FaceTime to remember
In addition to paying a pivotal role in Turkey's history, CNN Turk journalist Hande Firat's interview with Turkish President Recep Tayyip Erdoğan over FaceTime managed to carve out a place in national history for Firat herself; in the days since, she has received many congratulatory calls and was even offered $250,000 for the phone she used on air.
As the attempt waged by the Turkish military to overthrow his government began to escalate, Turkish President Recep Tayyip Erdoğan decided to use Apple's FaceTime app to give CNN Turk journalist Hande Firat an interview, calling on the Turkish people to rise up and resist the potential coup. The move paid off, as the rebel forces were met with massive opposition that managed to squash the attempt within two days.

Erdoğan's rule was essentially saved thanks to his use of a new media platform that allowed him to speak directly to his people. The interview he gave on FaceTime is being seen as a new stage in political evolution, granting Firat her own place in Turkish history, as the woman who helped Erdoğan broadcast his message to the world.

The monumental role that Firat was to play in her country's narrative came as a surprise. Recounting the events leading up to the interview, Firat described how she was alerted about events relating to the attempted coup, which prompted her to contact Erdoğan's personal secretary.




Upon hearing that army rebel forces had sent helicopters after Erdoğan, they decided to act fast. Firat suggested getting him on the phone for an audio interview, before eventually agreeing on a FaceTime call that would also include a visual feed.

Firat stressed the tension that could be felt throughout the studio during the interview itself, saying that everyone involved, from herself to those in the control room, were in utter shock as to what was happening. Despite trying to keep her composure and deliver a professional broadcast, she admits that her excitement was visible during the interview.

As the dust around the foiled coup settles, Firat adjusts to her role as the woman who gave Erdoğan a platform from which to send out a call to arms. In the days that have passed since, she has received congratulatory phone calls from such places as Saudi Arabia and Oman, in addition to a unique offer over Twitter from a man offering to buy the phone she had used to FaceTime with Erdoğan for $250,000 who had called it "the freedom phone." Despite the lucrative offer, Firat said that she does not plan on selling her phone any time soon.