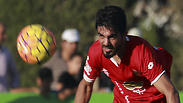 Only ten players of the Shabab Khan Yunis soccer team were permitted to leave the Gaza Strip on Wednesday to travel to the West Bank to compete in the Palestinian Cup final against Ahly al-Khalil in Hebron. Six of the players and some of the team's professional staff were not permitted to pass through the Erez checkpoint.

The Palestinian Football Association (PFA) announced in response that the game would not take place until the entire team, staff included, enter the West Bank. Ahly al-Khalil visited Gaza last week and beat their hosts 1-0 in the first leg of the final. On Friday, one of the chairmen of the Knesset's Caucus to Promote Sports, MK Esawi Frej (Meretz), sent a letter to Minister of Defense Avigdor Lieberman on the matter.

In it, he wrote, "Security here can be used as an excuse for everything, but in this case, it appears to be an excuse to damage Palestinian sports. An excuse for harassment and sabotaging the attempt of the Palestinians to try to maintain athletic normality."

He added, "From somebody who announced a few days ago that he intended to help set up a new soccer pitch in the (Palestinian) Authority, I would expect a little more consideration for Palestinian soccer. Israel should not dictate to the Palestinians the makeup of their teams. The very attempt to do so damages not just Palestinian sports, but is likely in the end to damage Israeli sports. He who doesn't respect others will in the end not be respected himself.

"I ask you to act to change the damaging decision and permit the players and staff to reach Hebron… Sport is supposed to be a unifying and connecting force."

PFA President Jibril Rajoub has led a campaign aimed at having Israel suspended from FIFA.

AFP contributed to this report.