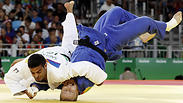 Muki beats Drakšič by Ippon.
Photo: AFP
After showing signs that he was heading for gold, Judoka Sagi Muki narrowly missed winning a bronze medal after being defeated by Georgia's Lasha Shavdatuashvili in the Rio Olympics on Monday.
The Israeli got off to a promising start and raised Israel's hopes when he beat a Slovenian opponent and former European champion Rok Drakšič by Ippon (the highest score in Judo, which ends the fight immediately) to advance to the second round.
He then went on to face and defeat the German Igor Wandtke who beat Haitian Josue Deprez before taking on the American Nick Depopolo.
However, Muki was forced to compete for bronze when when he faced the European champion Rustam Orujov of Azerbaijan in the semi-finals.
Muki beat Rustam during their encounter at the semi-final of the Grand Prix in South Korea in 2014 but was unable to deliver a repeat perfomance this time round.
Leading up to the tournament Muki was injured but showed little sign of discomfort during his first three stunning triumphs. It looked as if he might just clinch bronze. Ultimately however, the formidable Shavdatuashvili prevailed as he swept him onto his back and knocked out of the tournament one of Israel's most promising athletes.
Muki became a world champion and European champion in 2015. The Associated Press news agency had high hopes for the 24 year old as it predicted that he would be the only Israeli to receive an Olympic medal in Rio.