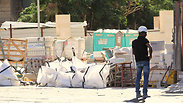 A construction site
Photo: Ido Erez
No supervision at West Bank construction sites leads to increase in work accidents
The Economy Ministry and the Civil Administration each place the responsibility for supervision and inspection of work sites beyond the Green Line on one another, as workers continue to suffer the injuries induced by unregulated construction.
Contractors beyond the Green Line do not need to worry about being sanctioned for safety hazards at their constructions sites, because the Economy Ministry's Institute for Occupational Safety and Hygiene does not operate in the West Bank.
The ministry's absence has resulted in an increase in the number of work-related accidents in the area.
In addition to not being subject to any inspection, contractors at West Bank construction sites are also not required to report work accidents to the institute, unlike their counterparts inside the Green Line.
On Tuesday, July 12, a 22-year-old construction worker from Si'ir, near Hebron, fell from a height of three meters at a construction site in the settlement of Beitar Illit in Gush Etzion. He suffered injuries to his head and back as a result and had to undergo surgery in his back. This accident was not reported to the Economy Ministry's Institute for Occupational Safety and Hygiene.
A week and a half ago, a photo made its way online of a construction worker standing on a concrete skip in mid air, which was being lowered by a crane to pour concrete. The dangerous incident occurred at a site managed by the construction company Y. Stern in Modi'in Illit, an ultra-Orthodox settlement.
The photo, posted on a Facebook page dedicated to the prevention of work accidents, elicited angry reactions from professionals in the field. "As a crane operator, I am ashamed. As a crane operator, I call to revoke (the operator's license). As a crane operator, I call for the closure of the construction site," one such professional wrote.
To demonstrate the extent of unsupervised construction beyond the Green Line, Ynet's sister publication Yedioth Ahronoth found that 2,372 apartments were built between 2013 and March 2016 in Modi'in Illit, Beitar Illit and Ariel alone.
"Everyone was in shock to learn that there is no supervision there, as if it's another country," said a construction worker at a site in Modi'in Illit.
Meanwhile, the Institute for Occupational Safety and Hygiene explains that the responsibility of supervising work sites in the West Bank belongs to the IDF.
Y. Stern said in response: "The company has conducted a comprehensive internal investigation and several actions have been taken: Stopping work at the site, fining the sub-contractor, changing the crane operator and rebuking those involved in the incident."