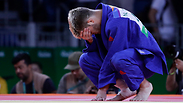 Sagi Muki after his loss
Photo: AP
For several minutes on Monday, Orit Muki, Sagi's mother, wept from her home in Netanya after her son lost his battle for an Olympic bronze medal to the Lasha Shavdatuashvili from Georgia.
"As far as I'm concerned, Sagi didn't lose," said the proud mother. "You have no idea how he suffered in the weeks before the Olympics because of a back injury."
The emotional mother added, "People don't know, but two weeks ago I was the one who put his socks on for him. He just couldn't because of the pain. Muki is a determined boy, and at a difficult weight of 73 kilograms, he won three fights and gave his all despite intense pain."
His father Rahamim also enlisted family members at the Menachet Mordechai synagogue near the family home to pray and send strength to Sagi so he could win a medal.
After the loss, the disappointed father said: "We really wanted him to win, but even though he lost, he had an amazing result."
Sagi's mother went on to say that she was not disappointed with the final result. "Sagi outdid himself. People don't understand that he had an ankle injury and the moment he started to recover from that, he injured his back. He was beset by some bad luck, but he still outdid himself. I saw he wasn't in a good mood and he was struggling with the injuries, but he still fought like a lion and we are very proud of him for his incredible journey at the Olympics."
Following his loss, Sagi spoke about the back injury he sustained from and the long day of fights. "At the start of the day, I felt good, but fight after fight my back hurt more and more and I knew that's the way it would be. I didn't feel in top shape, and three weeks out of the last month I didn't train and my preparation got messed up—I was suffering from two slipped disks," Sagi said.
"I didn't give up. Regardless of the back injuries I knew I was worthy of a medal. It's a shame it went wrong in the end. I'm happy that at least I fought, I didn't give up because it isn't in my nature to do so and that is how I was brought up. I will keep fighting in the next Olympics too. I hope I didn't disappoint anyone," the young fighter concluded.
Shortly after the loss, Muki also posted his feelings on his Facebook page: "I am pleased with the fight despite the problems. I proved to myself that no matter what, I can handle anything." Echoing the words of his mother, he added, "I handled the injuries like a lion. I will rest a little and come back healthy and strong for the next journey: Tokyo 2020."
The mayor of Netanya, Miriam Feirberg-Iker, praised Sagi as well, despite the loss and said "the residents of the city of Netanya are proud of Sagi Muki's achievement and praise this talented and wonderful athlete."