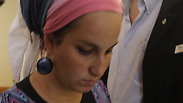 Eliraz Fein
Photo: Gil Yochanan
An indictment was filed today in the Petach Tikvah Magistrates' Court against 24-year-old Eliraz Fein of Yitzhar in Samaria (near Nablus) for incitement to violence.

The Ministry of Justice said that Attorney General Avichai Mandelblit authorized the indictment in light of the nature of the crimes attributed to the defendant "that touch on freedom of expression."

The indictment was filed by Roi Weiss of the Central District Attorney's Office. It claims that, following the forced evacuation and destruction of illegal buildings in Yitzhar in 2014, a discussion took place on a Google group called "Yitzharnikim." The discussion focused on the legitimacy of throwing stones at Israeli security forces. Hours after Fein posted that she supported the violent act, stones were thrown at Yasam (riot police) units in the city.

The indictment further stated that following the kidnapping and murder of the three teenage boys in Gush Etzion in 2014, the lynching of Mohammed Abu Khdeir in 2014, and the arson attack in Duma that killed three members of the Dawabsheh family in 2015, Fein posted to Facebook calls for violent acts or terrorism against Palestinian and Israeli Arabs and messages condoning the reported acts.

The charges allege that Fein did the above after she had already been questioned under caution and arrested for previous, similar posts.

In July 2014, on the murder of Abu Khdeir, the accused allegedly wrote to her approximately 800 friends on Facebook, "I'm proud and happy to discover there there are Jews who couldn't stand by and be silent! I send strong and courageous blessings to those arrested (who I don't know at all) accused of murdering the Arabs from the Abu Khdeir family."

In June 2015, following the arson attack on the Church of the Multiplication, Fein allegedly wrote, "Hey, happy people, good morning! This time a church to take into consideration the Muslims' feelings, Ramadan Kareem to you too."

After the arson attack in Duma with Molotov cocktails, Fein allegedly wrote on Facebook in August 2015, "Terrify them and make them understand that Jewish blood is not worthless, for murder the enemy will be bathed in blood," "I see this as a right and proper act," and "It's very appropriate and honorable in my eyes to damage Arab property."

Fein replied to the indictment, "It's weird that only today the DA 'remembered' to update me, put out messages to all the media and even prevented me from the hearing that I'm entitled to according to the law. Like I already said at the arrest, I say again that we love all IDF soldiers, we embrace them and support them with everything that we have. Dozens of soldiers have enjoyed cakes that I've made, I have many brothers and relatives in the IDF, some of them in select reconnaissance units, and I never thought about hurting IDF soldiers."