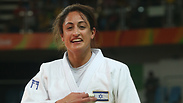 Israeli judoka wins bronze
Israeli judoka Yarden Gerbi won the Bronze Medal at the Rio Olympics on Tuesday..
Yarden Gerbi said "I'm proud to have won this medal for Israel."
Gerbi was favored to win even before she went off to the Olympics.
Israeli President Reuven Rivlin said in a statement that "All the people here in Israel are excited together with you. We all held our breath and prayed for your success but at the end of the day the one who did it was you, you are simply our champion. Well done. Today you are our heroine."
In 2013, Gerbi won the world judoka title, and in was the runner up in 2014. She also has three previous medals from the European Judo Championships – one silver and two bronze.
Born in Kfar Saba, Gerbi grew up in Netanya, and started practicing judo at the age of six, and has continued for the past 21 years. Her mother, Norit, is an architect, while her father, Shmulik, invented the electric taxi cab meter.
She has a degree in economics and management from the Open University of Israel.
Gerbi has won 27 medals in the past three and a half years – almost one for every competition she participated in.