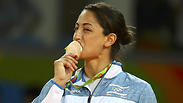 Still overwhelmed by the euphoria of snatching a bronze medal in the Rio Olympics, Israeli judoka Yarden Gerbi gave an interview overnight Tuesday about her dazzling success.

"I am so proud to be where I am right now, with a medal around my neck. I will never forget this," Gerbi told a packed press conference. "It is a personal dream for me that the entire Israeli nation got to experience this. I am proud to represent Israel and proud of the day of fighting that I had. I received everything I need in terms of financing, support and encouragement. I greatly appreciate this. It will take me a little time to digest it all."

Gerbi, who has won 27 medals in the past three and a half years – almost one for every competition in which she has participated - expressed her appreciation and gratitude for her family's support.

"I spoke with my parents. They are extremely proud. They sacrificed a lot. On the day of the match they (journalists-ed) knocked on their door. My sister said 'I am not speaking until the day is over.' I am so happy that they experienced this. They really deserve it. It is a wonderful family. The emotions are unbelievable and it is very difficult for me to explain it all in words," added the rejoiceful Gerbi.

Gerbi commented on the referee's controversial decision to rule that she had lost the quarter-finals. "I have learned firsthand that you can't mess with the judges. It is something that I never complained about because in Judo there is no option to argue. It is neither here nor there. I accepted what was decided but I am proud of the fact that I finished today with a medal," she said with graceful sportsmanship.

Minister of Culture and Sport Miri Regev furnished praise on the Kfar Saba-born medalist. "I want to thank you Yarden and I salute you. The nation is full of joy. You did what you did in an extremely impressive way. You gave hope to a lot of women that they can go far in competitive sport."

Israeli President Reuven Rivlin said in a statement that "All the people here in Israel are excited together with you. We all held our breath and prayed for your success but at the end of the day the one who did it was you, you are simply our champion. Well done. Today you are our heroine."

With her victory Gerbi became the seventh Israeli athlete to achieve an Olympic medal and have the honor of standing on and Olympic podium. This fact was not lost on her as indicated by her tears as she stood proudly and kissed the medal conferred upon her by the International Olympic Committee, even biting into it with a smile.

Gerbi lost in the quarter-finals to Brazil's Mariana Silva but progressed into consolation bracket where she triumphed twice and became the second woman to take an Olympic medal back to Israel. The last Israeli woman to achieve such a feat was Yael Arad who won the first Israeli Olympic silver medal in Barcelona in 1992.

With her victory, Gerbi adds to the impressive record Israel holds in Judo with half of the total number of Israeli medals clinched achieved by its fighters. Indeed, Oren Smadja added to the prestige a day after Arad's victory in 1992 while Ariel (Arik) Ze'evi won bronze in Athens in 2004.

Gerbi will be returning to Israel on August 14 despite the fact that the Olympic Committee is pressuring her to extend her stay so that she is present for the closing ceremony of the 2016 Summer Games. Her family have said that they want to travel to her in Brazil.