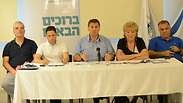 The Federation of Local Authorities
Photo: Jorge Novominsky
The Federation of Local Authorities in Israel on Wednesday announced that municipal systems would go on strike starting August 31 over planned changes to the Economic Arrangements Law that they say could seriously harm local authorities.

The strike will, in practice, also affect the education system, as it will include all municipality and local council employees: janitors, teachers' assistants, maintenance crew, security guards and secretaries—making it almost impossible to operate the educational institutions.

The municipality heads claim that the amendment to the law, which the government is scheduled to discuss on Thursday, will include some NIS 2 billion in budget cuts to local authorities.

According to the Federation of Local Authorities, the legislation's draft details measures including cutbacks to budgets meant for high schools and for adding more classrooms; establishing a government property tax fund, a move which means local authorities will receive less of that tax revenue; and the partial nationalization of the Maintenance of Cleanliness Fund whose budgets go to local authorities.

Tel Aviv Mayor Ron Huldai, Netanya Mayor Miriam Feirberg, Be'er Sheva Mayor Ruvik Danilovich, Holon Mayor Moti Sasson and the head of the Federation of Local Authorities Haim Bibas, who is also the mayor of Modi'in-Maccabim-Re'ut, held a press conference on Wednesday to announce the strike.

The group mayors claimed that the planned cuts would "hurt the basic services that local authorities provide to all citizens."

"On August 31, we'll begin preparations, and when the school year begins (on September 1), we'll go on an all-out strike, because there's no other choice," Bibas said. "The Finance Ministry needs to wake up."

Bibas said the Teachers' Association, parents' organizations and the Education Ministry have all expressed their support to the local authorities' cause.

"The Finance Ministry crossed all the lines with the Economic Arrangements Law," he added. "It's playing a zero-sum game."

"The government has a responsibility towards the citizens and in its decisions it is systematically cutting funds from education, welfare, culture and sports," said Danilovich.