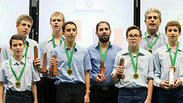 Winning team
Photo courtesy of World Bridge Federation
The Israeli Kids team won on Tuesday night the the Koc University Trophy World Championship at the 16th World Youth Bridge Teams Championships in Salsomaggiore, Italy.

Commenting on the under-15s' victory, Chairman of the Israeli Bridge Association Gilad Ofir said, "The title breaks the stigma that bridge in Israel is a game for adults."

Champions sing Hatikvah

The world championships lasts a fortnight, and Israel sent two teams; the first up to age 15, and the second up to age 20. The former, the victorious Kids team, is comprised of Aviv Zeitak, 14, Tomer Loonstein, 15, Nir Khutorsky, 14, Gal Matatyahou, 13, Shahar Dank, 14, and Gilad Lifshitz, 15.

They finished the early stage in fourth place after triumphing against the world's leading teams, including Canada and the US. France, which finished that stage in fourth place, chose to compete against Israel in the semifinal and lost. Israel played against China in the final.



Ofir is the 32-year-old team captain. He said after the Kids' victory, "Towards the end, we had already got a large lead, but then there were a few not-so-good plays, and there were concerns. But we got over them quickly. When they announced the champions over the loudspeakers, all of us ran outside immediately and hugged each other from excitement and happiness. It was a very moving ceremony. They played 'Hatikvah,' and the kids cried."

As part of their preparations for the championship, the young players practiced over a year and took part in other international competitions, including in France and the Netherlands. The under-20s team is still competing.