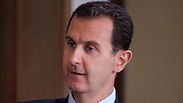 In an extensive interview with Ashraq al-Aswat, Turkish Foreign Minister Mevlut Cavusoglu said that Turkey's stance on Bashar al-Assad remaining in power will not change despite the improvement in relations with Russia.

"We are talking about the practical side of things, not the emotional or personal," said Foreign Minister Cavusoglu to the pro-Saudi newspaper. "Assad has murdered more than 600,000 people and as such, we do not believe that opposition factions will agree to his staying in power or his presence in any power transfer agreement."

As for the dialogue with the Russians on the matter, the Turkish Foreign Minister said, "We believe that Assad must go as soon as possible and it is impossible for a transfer of power process to occur with his presence. I think they are still sticking with their position on the matter and therefore, there should be more dialogue with the Russian side."

Foreign Minister Cavusoglu also claimed that Turkey does not support Assad staying in power for a short period such as six months, which was claimed in the past. "Assad must go immediately."

As for common points with Russia over Syria, Cavusoglu outlined leaving the territorial integrity of Syria together, support for a political solution to the crisis and consensus on the importance of humanitarian aid.

As for the attempted coup in Turkey, Cavusoglu said that the assertion that the United States was behind the attempt is not the stance of the Turkish government, but rather that of the Turkish people. This can change, if the US will extradite Fethullah Gulen to judicial authorities in Turkey, he said.

While fighting continues in Aleppo, opposition sources claim that government forces dropped incendiary munitions on the only field hospital in Daraya, outside of Damascus, which is controlled by rebel forces. The opposition claims that the regime has been heavily bombing the area for some time. Videos and pictures depicting the alleged damage have been uploaded to social media.

Russian bombers operating in Syria

One such video is that of Omran Daqneesh, the five year-old child pulled from the rubble of a building in Aleppo. The child is shown sitting in the back of an ambulance stunned and covered in blood and dust.