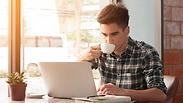 (Archive photo)
Photo: Shutterstock
The Israeli Ministry of Finance intends to implement a new plan starting January, according to which technology companies that originated in Israel will be given tax breaks worth about NIS 300 million a year.

The current tax rate for multinational high-tech companies is marginal: They pay about NIS 200 million a year, for a business cycle of about NIS 19 billion. On the other hand, their Israeli equivalents pay about NIS 1.7 billion a year, even after the passage of the Encouragement of Capital Investments Law by the Knesset.

This step by the Finance Ministry is an attempt to stay competitive in the global market by offering attractive tax incentives to companies such as Mobileye, Check Point, Mellanox, and NICE that would encourage them to keep much of their business inside the country, and create more jobs in Israel.

The new plan would see tech companies whose income is greater than NIS 10 billion a year enjoy a 6 percent tax rate for income related to intellectual property. Smaller companies will enjoy a 12 percent tax rate. For comparison, the full corporate tax rate in Israel is 25 percent.