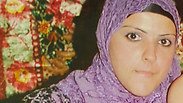 9 months pregnant woman murdered, husband arrested
Amna Yasin, who was due to give birth in 20 days, was stabbed to death early Tuesday; her husband has been arrested in relation to the incident; 'This is a double homicide,' said the representative of an organization working to for the advancement of Arabs. 'There are criminals running loose and innocent people are paying the price.'
The Nazareth Magistrate court extended the arrest of Walid Yasin from the Arab city of Tamra, under suspicion that he had stabbed his wife Amna Yasin to death on Tuesday. The mother of two who was also nine months pregnant with her third child, Yasin's body was found in the early morning hours with numerous stab wounds.

Samah Salaime, who heads a project aiming to fight the violence in the Arab community under the Sikkuy Association for the Advancement of Civic Equality, was adamant about the injustice of such repeated cases. "Violent men are not made to pay (for their actions). This is unquestionably an act of terror," she told Ynet.

"In addition to Amna being the mother of two, she was also nine months pregnant," continued Salaime. "As far as we're concerned, this is a double homicide, and that's horrible. A week ago there was another double homicide, in Lod. It's become normal for two masked individuals to take someone out from a car."

Trying to make sense of the horrifying statistics, Salaime said, "I think this is due to a proliferation of illegal firearms within in the Arab community and the helplessness of the police. Most of the murders that take place in the Arab community remain unsolved." As Salaime points out, "This means that there are criminals running loose and innocent people paying the price."

Since the beginning of 2016, 40 members of the Arab community have been murdered. Five of them have been women, all of whom were from the north.

In the case of Amna Yasin, there was a recorded history of domestic violence. "She should have had the support of the authorities," said Salaime. "She should have been removed from under her violent husband's roof and he should have paid the price. But violent men are not held accountable."

Salaime said that while the crime in the Arab community is not any one person's fault, "The situation doesn't bode well. Crime is on the rise, and as Arab citizens we feel that our security is less important to the state, so that our lives are run by criminals, by the people holding weapons."

According to Salaime, more than ten Arab women are killed in Israel each year. "Last year was especially hard, with 15 such cases. We're now at the end of August, so sadly I expect the current tally to rise."

Walid's brother, Khaled Yasin, expressed personal doubts as to what had actually happened. "This morning, when we entered the house, we saw the wife lying on the floor, still breathing, with a knife lunged in her chest. The main suspect is my brother, but there is still a chance she did it to herself. Right now, there's nothing to verify that he murdered her. It's best to wait for the investigation to finish. I'm sure things will look different in the end."

"We knew the couple was having problems," Khaled Yasin continued. "And while my brother does suffer from a mental illness, he isn't violent. It's true that in the past she had complained about him beating her, but I don't believe he did that, although at the time he was arrested for eight months. When the police came today, I told them he needs serious therapy. I don't know if they'll take this under consideration. I hope he didn't stab his wife, and that he will be released soon."