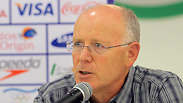 Gili Lustig
Photo: Oren Aharoni
The Israeli Olympic Committee is already using the lessons learned from Rio 2016 to prepare for Tokyo 2020. Even though Yarden Gerbi and Ori Sasson both brought home bronze medals and the number of Israeli athletes was higher than in London 2012, this year was still considered a failure.

These are the details of the plan for after Rio:

1) Athletes from abroad. After failures in some sports, the Israeli Olympic Committee is considering bringing athletes, mostly Jews, from abroad to Israel to strengthen and expand the roster. Gili Lustig, Director of the IOC, said, "We are not ruling out bringing in athletes from abroad. Other countries do it and it is a part of the world games. We will look for Jewish athletes, particularly from South and North America or from the Commonwealth of Independent States, to build another generation and make us proud.

2.) Toughening criteria. Even though Israeli criteria are tough in relation to international standards, due to a string of failures in events, the IOC has understood that European championships are not a tough enough standard and will begin placing more emphasis on world championships.

3.) Take a good look at swimming. The goals that were set for Rio 2016—finals in the 200 meter backstroke and semifinals in the 100 meter backstroke for Yakov Toumarkin, and semi-finals for Gal Nevo—did not materialize. Moreover, none of the swimmers broke any Israeli records. The IOC, together with the Swimming Association, will try to examine ways to improve the disappointing results. The future of national coach Leonid Kaufman is unclear; however, any decision will be made jointly between the IOC and the Swimming Association.

4.) Working as a national team. Other than Maayan Davidovich, who placed seventh, the sailing team—in particular the 470 crews—provided weak results. After London 2012, the head of the sailing association insisted on working in a team format, just as is the case with the judo team, but the crews refused. If the sailing association does not accept the decision, sanctions will be implemented.

5.) The "day after" project: The IOC will help professional athletes who are leaving the sport transition to every day life and will provide them assistance in finding a job or attending classes or professional certification courses.