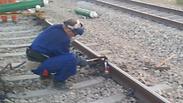 Work underway on trains
Photo: Israel Railways
Shabbat-train dispute leaves angry nation in its tracks
After PM Netanyahu gives way under Haredi pressure, weekend protests or soldiers' grievances prove insufficient to stop disabling of Haifa-Tel Aviv train track for maintenance work on Sunday; heavy traffic expected; increase of public buses will help, but won't provide comprehensive solution; soldier: 'My journey to the base could now last as long as 5 hours.'
Heavy traffic is expected to build up on Israel's roads over the course of Sunday as a result of the cancellation of the train line connecting the country's northern and central cities—the Haifa-Tel Aviv line.

As a result of work currently underway on the lines, the police said that heavy traffic could be expected on inter-city roads from Tel Aviv to northern roads.

In an effort to reduce the traffic and compensate for the train cancellations, the Egged bus company will increase its operations with more than 140 additional buses. However, the measure is only a partial answer given that Israel Railways will not be providing alternative shuttle services to passengers, bar soldiers, along the affected routes.

Traffic police have been dotted along the roads and have been instructed to prioritize the flow of buses. The police also announced that the train artery linking the north and center will not become operational again until 7pm and have therefore urged drivers to avoid using the affected roads and to remain patient.

The IDF and the Defense Ministry have implemented measures to address the issue of the interrupted movement of soldiers returning to military bases after the weekend. To that end, dozens of extra buses in both directions from the north to the center have been provided.

The inconvenience was caused when, last week, a political furor broke out over planned infrastructure-improvement construction that was supposed to take place during Shabbat, when the trains do not run.

The ultra-Orthodox factions in the government objected and threatened to withdraw from the coalition—effectively bringing down the government. Under pressure, the prime minister proposed a compromise in which he suggested that out of the 20 projects that Israel Railways had requested to undertake on Shabbat, 17 would be cancelled. On Friday however, Haredi politicians insisted that all 20 projects be cancelled.

The current coalition controls 67 of the Knesset's 120 seats. Haredi parties Shas and United Torah Judaism hold 13 seats, meaning that their retreat from the coalition would cause a governmental crisis and a possible downfall.

Criticizing the decision, Director-general of the Transport Ministry Keren Turner claimed that work during Shabbat is nothing new. "The Work and Rest Hours Law doesn't just refer to 'Pikuah Nefesh (a Jewish principle which permits most transgressions, such as violating Shabbat, if a life is at risk). If they (the ultra-Orthodox parties) don't want us to work on Shabbat, they need to know what the law allows," Turner said.

"We have been doing this for years already. Similar companies have been working on Shabbat. Other companies unconnected with the Transport Ministry also work on Shabbat. You don't just shut down electricity in the middle of the week or close a water or sewage pipeline and you also don't just shut down trains," she added.

"We made clear the whole time that we are going to carry out work in 20 locations unless we are told otherwise. Toward the beginning of Shabbat I read in the news that other instructions had been given. I myself called the government chief of staff to see if it was true and at no point did anyone inform us."
Protestors gather outside Tel Aviv train station
Some 400 people protested Saturday night outside Tel Aviv's Savidor Central Railway Station and Lev HaMifratz Railway Station in Haifa.
Demonstrators, which included activists from the Meretz party and the Zionist Union Camp, waved placards which read: 'A country according to Jewish law means a country gone' and 'Bibi wake up. Travellers are worth more.' Other signs read, 'I am waiting for a bus on Shabbat.' The protesters succeeded in blocking some roads for a short while which led to arguments with drivers passing by.
MK Tzipi Livni from the Zionism Union Camp said during the Tel Aviv protest: "The time has come to leave our chairs and take to the streets so our anger can be heard and so that we can fight for our rights for public transport on Saturday night. This whole thing is not about Shabbat, but rather about Netanyahu taking contemptuous decisions just to remain in power. A solution could have been found."
MK Tamar Zandberg (Meretz) also spoke at the protest. "Tonight we became pawns of Bibi, Yisrael Katz and Yaakov Litzman. We want to get to place in Israel on Shabbat. We are going back to the years when rabbis decided where we could go," she said. "We won't tolerate this anymore and we won't be quiet anymore."
Soldiers to bear the brunt of the decision
The decision has caused significant outrage among soldiers who, as a result of a separate demand by the Haredi and ultra-Orthodox parties vis-a-vis how trains operate immediately before and after Shabbat, will now have the amount of time at home on weekends restricted. Currently, Israel's trains cease to operate 20 minutes before Shabbat commences and 20 minutes after its conclusion.
While this means that the trains do not run during Shabbat itself, it nonetheless requires workers to violate it in preparation for work. As a result therefore of the Haredi demands, some of the lines operating on Friday and Saturday night will be cancelled or their operational hours reduced.
One soldier, Yinon, explained that his journey from his home in Karmiel in the north to his base in the south was next to impossible. "I have no way of getting to the base. The only way around it is if I get a sick day because otherwise I will be late and I will be considered as missing which could mean I go to military prison," he said.
Commenting on the Sunday disabling of the center-north train line, Yinon said, "As a soldier it seriously affects me. I have to be at the base. It is a three-and-a-half-hour journey and if I travel on the bus I have to change three or four times which turns it into a 5-hour journey or more. It's crazy." Worried that he would not make it to base on time, the soldier concluded: "It is a disgrace that people who give their lives for the country need to become stuck because of religious coercion and the prime minister."
Before entering a cabinet meeting on Sunday morning, Yaakov Litzman, who has spearheaded the work cancellations on Shabbat and pushed for the change in the trains' operational hours, told the press, "It didn't need to get to a desecration of Shabbat."