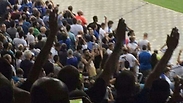 The reported "Italian ultras fans" giving the Nazi salute
Italian soccer fans give Nazi salute, spit and boo during Hatikvah
During a soccer match between Israel and Italy, several Italy fans put on an anti-Semitic display that included booing during the Israeli national anthem, spitting on Israeli fans and performing the Nazi salute; the Israel Football Association has already sent video footage from the match to its Italian counterpart so that those responsible could be held to account; Italy has already come out condemning the incident.
The first match in the 2018 FIFA World Cup qualifier, which took place Monday in Haifa between Israel and Italy, saw several members of the audience, seated in an area of the stadium designated for fans of the Italian team, making anti-Semitic and anti-Israel gestures.

The fans were recorded booing while the Israeli national anthem 'Hatikva' was played while at least two were removed by security forces for raising their hands in a Nazi salute. Moreover, several were seen taunting religious Jewish fans and spitting at them. At the end of the match, some of the Italian team's fans attempted to storm the field, but were stopped by security.

An Israeli fan who was in the stadium reported that the Nazi salute was performed by "Italian ultras fans," dubbed as such for their fanatical support they show their team. In this case, the ultras did everything they could to antagonize the Israeli team and fans. He stressed that the Arab Israelis who were present in the stadium and cheering on the Italian team did not act in a confrontational manner, and that did not take part in the offensive actions performed by the Arab fans of the Italian team who had come from abroad.

The Israel Football Association was reportedly shocked by the behavior of the incoming fans and has filed a complaint with the Italian Football Federation. It has transferred video footage from the event to the Italian Federation, so it could "deal with the sickening minority that wished to besmirch the visiting crowd, their team and country."

"The Italian part of the stadium was filled with Arab fans who had bought almost all the tickets," said several sources from the Israel Football Association. Another fan added that several "true" Italians—presumably non-Arabs—were shocked by this behavior and tried to stop it.

The Italian Football Federation has since responded to the incident, with President Carlo Tavecchio saying he "strongly condemns" those who gave the Nazi salute. In a telephone call with the Israeli ambassador to Italy, Francesco Maria Talo, Tavecchio added that "We hope the relevant authorities can determine as soon as possible what happened and identify those responsible."

The match concluded in a 3:1 victory to Italy, despite Israel's strong performance.