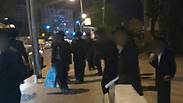 Neturei Karta outside rabbi's house
Neturei Karta Jews run wild into house of rabbi who supports draft arrangement
A group of Haredim burst into the house of Kiryat Gat's chief rabbi and three were arrested. They opposed his support for an IDF–Chabad arrangement to permit some yeshiva students to leave the country if they enlist if unmarried at 26.
Three ultra-Orthodox Jews belonging to the anti-Zionist Neturei Karta sect were arrested on Wednesday night after breaking into the home of Moshe Havlin, the Ashkenazi chief rabbi of Kiryat Gat. Their break-in was apparently motivated by Havlin's support of the IDF draft arrangement for Chabad Lubavitch Hassidim, of which Havlin is a member.

The arrested men tore photographs from the walls of the chief rabbi's house and blew on a shofar. They detention was extended to four days.

Havlin also works as the director of the Chabad yeshiva in Kiryat Gat. Late Wednesday night, some ten Haredi protestors entered the rabbi's home. The police ascertained that they were creating a public disturbance and violating Havlin's privacy and arrested three, who were taken for questioning. They refused to identify themselves.

Neturei Karta outside rabbi's house

Havlin recounted to Ynet, "About 25 young men came and knocked on the door. I thought that is somebody who needed something from me because lots of people are used to coming to me at home.

"I opened the door, and they burst in, pushing me and coming into my house. My wife fainted. They started yelling and blowing on a shofar, tearing pictures and placards from the walls, yelling insults and attacking me. It was extremely frightening, but I wasn't deterred. My views are clear. I support the arrangement for drafting yeshiva students to the IDF. I am a Zionist, and I love Israel."

Chabad students generally complete their seventh year of studies (at around the age of 20–21) at Lubavitch World Headquarters in Brooklyn. Because the IDF forbids non-enlisting yeshiva students from exiting the country, Chabad rabbis asked for a special dispensation for their students, explaining that the trip to the US is part of their curriculum.

Thus, the arrangement to which Havlin referred was signed between the parties, setting that the students could leave the country on the condition that they agreed to enlist at the age of 26. However, as the great majority of the Chabad students are expected to be married by that age, they will receive a waiver for their military service.

This agreement has attracted criticism from rabbis and yeshiva heads of Hassidism inside the Haredi population, especially from the more extremist elements. According to them, while the arrangement is purely declarative, it is the thin edge of the wedge that will bring IDF enlistment for additional yeshiva students outside of Chabad.