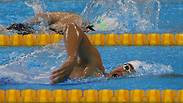 Inbal Pezaro.
Photo: Keren Isaacson
The Rio 2016 Paralympic Games have only just begun, but already Israel may be in line for a medal. Swimmer Inbal Pizaro has reached the finals of the women's 200 meter freestyle, after qualifying with the fourth-place score of 3:03.35 minutes.

Pezaro, who has already medaled in the 200 meter freestyle in previous Paralympics – she won bronze in Athens 2004 and in London 2012, and won silver in Beijing 2008 – will now go for gold in Rio. The finals are set to take place at about 2am Israel time.

Pezaro's fellow swimmer, Yoav Valinsky, was Israel's first Paralympic athlete to compete in the Rio 2016 Games, setting a personal record of 1:32.37 minutes in the men's 100 meter backstroke. However, he did not manage to qualify for the finals.