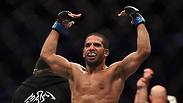 Noad Lahat.
Photo: Reuters
Israeli MMA fighter Noad Lahat to co-headline Bellator MMA event in Tel Aviv
Lahat, nicknamed Neo, will make his debut with the world's second-largest MMA promotion in November. Bellator's first ever event in the country will be headlined by a welterweight title match between champion Andrey Koreshkov and former champ Douglas Lima.
The world's second-largest Mixed Martial Arts (MMA) promotion has set a date for its Israel debut, and it's bringing with it at least one local fighter: Bellator MMA will hold an event at Tel Aviv's Menora Mivtachim Arena (formerly known as the Yad Eliyahu Arena) on November 10. In the co-main event, Israeli fighter Noad "Neo" Lahat will compete against Scott Cleve in a featherweight (145 pounds) match. The card's main event will be a welterweight (170 pounds) title fight rematch between current champion Andrey Koreshkov and former champion Douglas Lima, whom Koreshkov first beat to win his title at Bellator 140 in July 2015.

Lahat, 32, currently lives in California and trains at the American Kickboxing Academy MMA Gym (also known by the initials AKA) in San Jose. He previously fought for the Ultimate Fighting Championship (UFC), winning two fights and losing two for the world's largest MMA organization. Lahat holds a professional MMA record of nine wins and two losses.

Lahat started training in Judo at a young age, and eventually earned a black belt in the Japanese art. He enlisted in the IDF and became a combatant in the Paratrooper Brigade (Tsanchanim). After his military service was over, Lahat started training in Brazilian Jiu-Jitsu (also known by the initials BJJ; a grappling-based martial art aimed at achieving superior position over an opponent on the ground and submitting them) - in which he eventually achieved a black belt as well - and in MMA. Lahat was highly praised in Israel when he flew back to the country during Operation Protective Edge in summer 2014 in order to volunteer for reserve duty (following his decision win over Steven Siler at UFC on Fox: Lawler vs. Brown).

The Bellator event will be perhaps the biggest MMA event ever in Israel, certainly in terms of the promotion's size and prestige. The previous large-scale MMA event, also held at the Menora Mivtachim Arena (then called the Nokia Arena), was Israel Fighting Championship: Genesis, which took place on November 9, 2010. That event featured several Israeli fighters on the card, such as Ido Pariente, Jeremy Knafo, and Moshe Kaitz, as well as internationally famous fighters like Jeff Monson, Rameau Thierry Sokoudjou, and former UFC heavyweight champion Ricco Rodriguez.

Eitan Glickman contributed to this report.