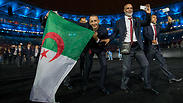 Algerian delegation
Photo: AP
International Paralympic Committee investigating Algeria for refusing to play Israel
The IPO has opened an investigation into whether Algeria intentionally arrived in Rio late to avoid playing Israel's national goalball team. IPC Spokesman Craig Spence says, '"I travel quite a lot around the world, and if you miss a connection flight, you can usually get another one within 24 hours. I think even if they took a boat from Poland to Brazil they could have made it to the game on time.'
The International Paralympian Committee will officially open an investigation into Algeria not being present to play Israel in women's goalball. The Algerian national team missed the game under the pretext that they didn't make their flight to Rio from Poland on September 5th, where they held a training camp. Israel subsequently won a technical victory 10:0.

The Algerian team's excuse, which includes five players and two coaches, did not satisfy the IPC. Spokesman Craig Spence said, "I travel quite a lot around the world and if you miss a connection flight, you can usually get another one within 24 hours. I think even if they took a boat from Poland to Brazil they could have made it to the game on time. We have opened an investigation and will try to get a logical explanation."

Making matters worse, the Algerian team is expected to land today in Rio and has already asked to continue playing in the tournament. The Algerian team is expecting to play Japan Monday and the home team Brazil on Tuesday.

Instead of the game, the Israeli team held practice in front of hundreds of spectators that arrived to the stadium, while volunteers tried to pass the time with the audience with a variety of activities. The story itself made headlines around the world, with outlets such as The Telegraph and BBC reporting on it.

Other delegations at the games also took notice of the incident. Australian coach Peter Corr, whose team was invited to the games following the suspension of Russia, said, "If the Russian situation had not come up, we would've been sitting at home and Algeria would have forfeited their game. That would've been our spot. Algeria can't play whenever it wants. That is embarrassing that a team forfeits a game at the Paralympic Games, when you have a crowd of 3,000 people who bought tickets. I don't think you do that to the Paralympics, because politics is not what it's about."

Incidentally, this is not the first time Israel has been boycotted at the Paralympic games. In Beijing in 2008, Iran refused to play against Israel, which resulted in a suspension of all activities for six years.