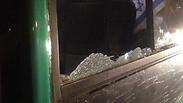 Bus window shattered in Jerusalem attack
Photo: EE911 Reports
Monday sees four attacks as wave of terror continues
A bus driver was lightly injured in Wadi al-Joz in east Jerusalem; a stabbing attack was thwarted in Hebron; another stabbing attack occured at the Tomb of the Patriarchs in the afternoon; two police officers were stabbed outside the Old City of Jerusalem in the morning; has the wave of terror returned?
There were four terror attacks carried out throughout Israel on Monday.

In the latest, a bus driver was lightly wounded in a stone throwing attack on Monday evening as it was travelling through the Arab Wadi al-Joz neighborhood in east Jerusalem.

Magen David Adom paramedics arrived on the scene and treated the driver, while the Israel Police have begun a search for the stone throwers.

Meanwhile, only moments before, a Palestinian man tried to stab IDF soldiers who were combing the area in the Abu Snina neighborhood of Hebron. The soldiers arrested the terrorist without firing a shot, and took him in for questioning.

The US State Department issued a travel warning to east Jerusalem following Monday's terror incidents. The warning stated that the reason for this is recent terror events in Jerusalem's Old City, and said that civilians should avoid visiting areas in which there is a heavy police presence. American citizens were specifically warned to avoid going to the Old City's gates - particularly the Lions' Gate, Damascus Gate, and Herod's Gate.

Earlier in the evening, Jerusalem District Police Commander, Deputy Commissioner Yoram Halevy, addressed the recent wave of attacks and said that police will continue to close streets and stores after attacks. "We will close stores in any sector after an attack takes place so that we can sterilize the area."

Halevy was referring to the fact that during the day, after terrorist attacks in Herod's Gate, east Jerusalem Police closed the Sultan Suleiman street shops. Police stressed that the decision was based on "operational considerations in order to establish information and complete the investigation of the attack." After several hours and an official police assessment, police decided to reopen the route and shops.

Two terrorists attempted to stab Border Police officers at the Cave of the Patriarchs in Hebron earlier on Monday afternoon. They were shot and very seriously injured before they could harm anyone. One attacker was declared dead at the scene, while the second was pronounced dead in hospital.

Stabbing attack at Herod's Gate (באדיבות: דוברות המשטרה)

Also, a 38-year-old policewoman and a 47-year-old policeman were wounded in a stabbing attack at Herod's Gate in Jerusalem's Old City Monday morning; Magen David Adom (MDA) reported that the two were left in critical and serious condition respectively.

The attack took place shortly after 7:30am. The terrorist apparently approached from the direction of Damascus Gate when he spotted the two members of the police. He followed them and stabbed them multiple times with a knife. Police spokeswoman Luba Samri said that the policewoman was stabbed in the neck.