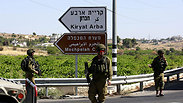 Illustration: Kiryat Arba
Photo: EPA
A 14-year-old terrorist was neutralized by Israeli security forces Friday afternoon after attempting to carry out a stabbing attack at the Elias junction in Kiryat Arba. The terrorist, who was left in serious condition, tried to sneak up on the security force stationed in the area and produced a knife.
The terrorist was evacuated to Shaare Zedek Medical Center in Jerusalem in serious condition after being shot in the leg and the chest.
Elias Junction—the entrance to Kiryat Arba—became a flashpoint of terror attacks during Israel's wave of terror between 2015 and mid-2016. Only last Friday a vehicular attack attempt also took place, when two terrorists—a man and a woman—tried to run over three Israeli teenagers near Kiryat Arba. The man was shot to death and the woman was severely injured during the incident, while the three boys were slightly wounded. The female terrorist's sister had reportedy tried in the past to carry out her own vehicular terrorist attack near Kiryat Arba.
The attack was the fourth to have taken place in just one day, among them an attempted stabbing by a Jordanian national at the Damascus Gate in Jerusalem's Old City.
Earlier in the day last Friday, a soldier was lightly wounded in a stabbing attack at the Gilbert Checkpoint in Hebron before the terrorist was neutralized by security forces. The incident marked the first act of terrorism at the Gilbert Checkpoint since Sgt. Elor Azaria shot and killed an already the neutralized terrorist Abed al Fatah a-Sharif. The attacks continued into Saturday, with an IDF soldier being stabbed by a terrorist before shooting him.
The following morning, a reserve officer was left in moderate condition after being stabbed in Efrat after a terrorist emerged from the bushes with a knife.
The latest attack comes amid a series of other attempts in recent weeks which have shattered Israeli hope that the recent cycle of violence had dissipated and aroused the security establishment's fears that the wave has been newly reinvigorated.