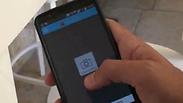 FinTech
Photo: George Ginsburg
French delegation to make splash at Tel Aviv innovation festival
Five French high-tech companies to take on five Israeli ones in 48-hour hackathonheld as part of the annual technological innovation conference; European startup leader 'We are delighted to play such an important part at the DLD Tel Aviv festival.'
The French delegation to the DLD Tel Aviv Innovation Festival, which has played host to some of the most famous and innovative companies—such as Airbnb, Facebook, YouTube, and Uber—is planning a 48-hour hackathon in which five French companies will square off against five Israeli companies.
The delegation, headed by French Secretary of State for Digital Affairs, Axelle Lemaire, includes 250 participants, among them entrepreneurs, engineers, designers and investors such as BlaBla Car, Scality, Neatmo and Drivy whose combined values alone near $2 billion.
Among the companies facing off in fields such as mobile technology are FinTech and IoT (Internet of Things).
The companies will be competing over a grand prize of two CES packages including flights, accommodations and show access at the CES conference in Las Vegas.
John Karpp, CEO and founder of BeMyApp—the French startup organizing the hackathon—said: "We are delighted to play such an important part at the DLD Tel Aviv festival. The hackathon, essentially bringing together French entrepreneurs and the startup-nation's innovators, attracts attention, increases their reach and allows them to demonstrate their individual breakthroughs."
Public workshops, conferences and exhibitions will take place at the delegation's venue at the HaTachana site.