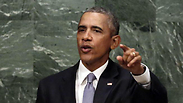 Obama. In every decision node, he chose the diplomatic way
Photo: AP
A political realist in an irrational world
Op-ed: Hundreds of thousands of Syrian, Afghan and Iraqi citizens were sacrificed, unknowingly and with good intent, for the sake of Obama's sincere desire to talk to tyrant regimes, precisely in order to prevent unnecessary victims; it's a shame the bad guys failed to understand and play by his rules.
In his last address to the United Nations General Assembly as president of the United States, Barack Obama mentioned Syria in a few sentences, almost incidentally. When it comes to Syria, he really has nothing to be proud of. Only to be ashamed, to be sorry, to apologize.

He is ending his presidency with plenty of achievements in his country's social-economic policy and plenty of failures in its foreign policy, especially the policy towards the Arab and Muslim world. Syria, or what is left of it, serves as ultimate proof of that.

Obama cannot be accused of being a pacifist, a seeker of peace at all costs, who is therefore not trigger-happy. He is trigger-happy: The number of targeted assassinations he approved in recent years far outweighs the assassinations approved by his predecessors. But they launched wars. He didn't.

Obama chose the diplomatic way in every decision. Not just because he did not want to shed the blood of his country's soldiers far from its borders and for the sake of goals he did not view as serving the national interest – although these reasons did play a part too. His decision came from the depths of his worldview and not from cost-benefit calculations. Obama is a political realist, and basically prefers a diplomatic solution over a military one and a fair compromise over a violent conflict. These are commendable leadership qualities. But in today's torn world, the real politics approach does not work.

Obama's decisions to take the military option off the negotiating table with Iranian President Hassan Rouhani and Syrian President Bashar Assad stemmed from that same positive and rationalistic worldview, which believes that political and economic pressure is capable of forcing the tyrant regimes' hands and, moreover, that these regimes will keep their promises, despite their criminal nature.

Hundreds of thousands of Syrian citizens, tens of thousands of Afghans and tens of thousands of Iraqis were sacrificed, unknowingly and with good intent, for the sake of the sincere desire to talk to the evil regimes, precisely in order to prevent those unnecessary victims. It's a shame the bad guys failed to understand Obama's rules, internalize them and play by them.

Whether the agreement with Iran survives or collapses soon due to internal disputes in Tehran, appeasement in the global arena in general – and in the Middle Eastern arena in particular, critically damaged Obama's legacy. His apparent frustration, which is apparent in his recent appearances and interviews, is understandable when one goes back to his "new beginning" speech at Cairo University in June 2009.

In Jerusalem, that speech was interpreted as an act of flattery to the Arab audience, but the truth is it was the first time Obama presented his vision for a democratic, liberal, competitive, thriving and developing Middle East which recognized the Jewish people's right to a Jewish state based on the 1967 borders.

None of that happened in reality. The opposite happened. In the seven years that have passed since his Cairo speech, the march of progress in the Muslim world has not hit the road. Obama's US did not initiate it and did not lead, and sometimes even blocked its buds which wilted from their very beginning. To be fair, it should be mentioned that Russian President Vladimir Putin – a big bully equipped with an aggressive, military worldview – has no impressive achievements in our region either. Assad is pulling him by the nose too.

Nonetheless, Obama settled for words although he knew that shedding words does not stop bloodshed. In his foreign policy, he preferred to ignore Winston Churchill's historical warning against a "slippery slope" in the negotiations he was offered with the Nazis in June 1940. Signing contracts and agreements with fanatics and murderous dictators, Churchill asserted, gives them legitimacy which they will use, among other things, to renounce actual agreements.

Obama suffered another miserable defeat in the way he handled the Israeli-Palestinian conflict. The two peoples are now further away from a dialogue than they were during the terrible days of the second intifada. Add to that the disgrace in Syria, Afghanistan's collapse, Iraq's disintegration, al-Qaeda's recovery, Turkey's audacity, Africa's surrender, and the masses of ISIS soldiers – and you'll get all the reasons why two-thirds of Americans define their president's foreign policy as a failure in most areas, and especially in the area around us and within us.