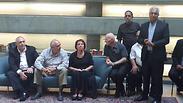 Israeli-Arab regional council heads with Peres's daughter
A delegation of about 20 Israeli-Arab regional council heads was at the Peres Center for Peace to pay their respects to the former President and to express their sorrow to the Peres family.

"We are against the boycott carried out by the Joint Arab List MKs," said Khaled Khaldi. "They will pay for what they've done. They only represent themselves."

"We came here in the name of all of the Israeli-Arab regional councils to participate in the mourning of Shimon Peres," said the Mayor of Skahnin Mazen Mazin G'Nayem.

IN addition to G'Nayem there were representatives from Mukabiye, Kafr Bara, Daburiyye, Ein Mahl, Basmat Tab'un, Rahat, Kafr Misr, Tuba-Zanghriye, Shibli, Bir el-Maksur, Shaab, Zemer, Bu'eine Nujeidat, Deir Hanna, Deir al-Assad, Gilboa, and various Bedouin villages.

The members of the delegation told Shimon Peres's daughter Tzvia Valdan that "Shimon was like a father for all of us, for the entire sector. We feel what you feel."

"I know what you feel," Peres's daughter replied.

Nizar Alimi, advisor to Isaac Herzog (Labor), said "we came to comfort the Peres family and the State of Israel. Shimon was one of a kind and had a vision for the future. I'm embarrassed by the Joint Arab List MKs who receive their paychecks from the State of Israel and didn't come to pay their respects."

"The Balad extremist line has taken over the Joint Arab List, a political party which will bring about a new Nakba against the Israeli-Arabs," Alimi continued. "They have betrayed their constituents and are cut off from their constituency. These Arab leaders are a shame and a disgrace."

"We feel Shimon's loss all across the sector. He was a wonderful man, not only for Israel, but for the whole Middle East and the whole world," Khaldi continued.

He went on to say "we came here on behalf of the regional council heads to share the pain of both the Peres family and the State of Israel. There are people who make history, and there is history which makes people. He made history. I want to hope that the leaders to come will follow in his footsteps and his path towards peace."




Naim Shibli, head of the Shibli Regional Council at the foot of Mt. Tabor, added that "Peres was a very important person, a man of peace, and a man who could envision 1000 years into the future."

He then said that the MKs from the Joint Arab List should all come to share in the Peres's family's pain. The Joint Arab List MKs boycotted Shimon Peres's funeral on Friday.

Regarding Palestinian President Mahmoud Abbas's participation in the funeral, Shibli said "Abbas is a brave man. I even called him and told him that. I hope he will continue on this path as we all know that this path will contribute both to peace in Israel in particular and the Arab world in general."

Peres's daughter thanked the assembled regional council heads for "coming to give your respects to my father and from coming from all across the country. You are brave people. There are those who believe that we can't live here together, but we can. Without you, we wouldn't be able to live here. We all believe in a better future."