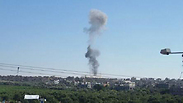 Israeli airstrikes in Gaza
Israeli jets strike Hamas targets in Gaza
The IAF attacked a string of Hamas outposts in the eastern and southern areas of the strip, following earlier IDF artillery fire into Gaza in retaliation for a rocket which landed in Sderot; The IDF is currently looking into why the Iron Dome did not activate to intercept the rocket. Hamas: 'We cannot sit idly by if the escalation continues.'
The Israel Air Force launched retaliatory airstrikes on Hamas targets in the Gaza Strip Wednesday afternoon after a rocket landed earlier on the city of Sderot. The fresh airstrikes were launched shortly after the IDF responded to the fallen rocket by firing artillery fire into the strip.

IDF attack in the Gaza Strip

The IDF conducted at least five separate strikes, one of which took place in the southern city of Khan Yunis on a Hamas outpost. Another two attacks were said to have been launched in the eastern half of Gaza City, with another taking place in the western half. A fifth strike reportedly took place against the Hamas marine police in the northern Strip.

Shortly after the attack, Hamas released a statement criticizing the Israeli response: "We condemn the Israeli escalation against the Gaza Strip and warn against its continuation. We emphasize that we cannot sit idly by if the escalation continues," the statement read."

Earlier Wendesday, a rocket exploded at approximately 10:19am inside Sderot. Two people, a 15 year old girl and a 60 year old man, were treated for shock, and were evacuated to Barzilai Medical Center in Ashkelon.

"Today's (rocket) attack ... is the direct result of Hamas's terror agenda in the Gaza Strip that encourages deliberate attacks against Israeli civilians," spokesman Lieutenant-Colonel Peter Lerner said in a statement.