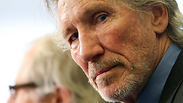 Thursday night, the disbanded musical group Pink Floyd "united" to express their support for the Zaytouna-Oliva flotilla that sought to break the blockade on Gaza and that was stopped by the Israeli Navy on Wednesday.

In a message posted to their Facebook page on Thursday, the three living members of the band, David Gilmour, Nick Mason and Roger Waters, wrote that they "stand united in support of the Women of the Gaza Freedom Flotilla, and deplore their illegal arrest and detention in international waters by the Israeli Defense Force."



The somewhat misleading header was "Pink Floyd reunites to stand with the Women of the Gaza Freedom Flotilla.

Op-ed

If people like the anti-Israel musician and the boycott supporters had their way, Jews would once again be targeted, and left without shelter.

Roger Waters is no newcomer to criticizing Israel. In the past, he has called on other artists to join him in a cultural boycott against the Jewish state and refuse to come here to perform. Gilmour and Mason, for their part, tend to avoid directly commenting on the Israeli-Palestinian conflict.

One year ago, Jewish American radio personality Howard Stern delivered a seven-minute rant on a recent broadcast of his show against Walters, asking "What is with Roger Waters and the Jews?"