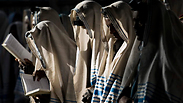 Ethiopian Jews pray in Gondar
Photo: Nitzan Hafner
64 Ethiopian Jews to come to Israel by next week
After languishing for 6 months in holding camps, 64 Jewish Ethiopians will immigrating to Israel on Sunday; they are part of a list of 1,300 Jewish Ethiopians who will be reunited with their families in Israel; flights come amidst deteriorating security situation in Ethiopia.
A plane carrying 64 new immigrants, or olim, from Ethiopia is expected to land in Ben Gurion International Airport on Sunday as part of the first phase of a government decision to bring over 1,300 Jewish Ethiopians who have been languishing in refugee camps in Gondar and Addis Ababa.

The flights are being coordinated under the framework of reuniting families. The names of the 1,300 Jewish Ethiopians were submitted in an official list to the Israeli Interior Ministry by family members who have already made it to Israel.

However, this first flight is just a fraction of the number of Jewish Ethiopians who were granted approval to immigrate to Israel, and who have been stuck in camps awaiting transport to the Jewish state for six months.

MK Omer Bar Lev (Zionist Union) blames the government for what he described as indifference to the fate of the community, especially in light of the unstable security situation Ethiopia is facing due to Oromo land rights protests.

"The bloody war occurring in Ethiopia right now threatens the lives of many people. One of our people has already been killed, and an end to the conflict still isn't on the horizon. The Israeli government has determined that there are still 9,000 Jews remaining in Ethiopia, even before the state of emergency there. However, now the order of the day has changed and the government's apathy is unacceptable," Bar Lev said.

"I call on the Prime Minister to announce that the remaining Jews in Ethiopia will be brought home to Israel in an emergency operation," he continued.

Some of the money for the operation to bring over the 1,300 Jewish Ethiopians is coming from the International Christian Embassy in Jerusalem, which has transferred NIS 2 million to the Jewish Agency for Israel. The money will be used for 3 operations which will enable 630 Ethiopian, French, and Ukrainian Jews to come over the course of October.