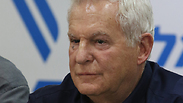 Major-General (res.) Amiram Levin
Photo: Shaul Golan
It began with Knesset Member Basel Ghattas of the Joint Arab List. Former President Shimon Peres' stroke was enough for him to make defamatory comments about the "Zionist criminal." A small minority among the Arabs, in Israel and in the world, joined him.

When Peres passed away, the extreme right launched its own sickening campaign. Peres, according to them, is not just the most senior "Oslo criminal," he is also an arch-liar and a traitor who tried to sell the state. Just a few minutes went by, and a small part of the radical left joined the party too. Peres? All he did was talk. He is a crook. He is a liar. He didn't do anything for peace.

As long as it was taking place solely in the marginal coalition of Balad, the radical right and the radical left – so be it. It's unpleasant, but it's not that horrible either. And then came Major-General (res.) Amiram Levin's horror show.

Channel 10 News aired on Friday night a recording from three weeks ago, when Peres was fighting for his like after having suffered a stroke, in which Levin is heard calling the elderly statesman a liar and a crook and said he had played no part in Operation Entebbe and had never met Yoni Netanyahu. It was the same scornful melody, but this time it came from a person who we wanted to believe had a certain amount of common sense. He is not a member of the coalition of cursers and offenders.

Levin made a double mistake, to say the least. Peres did say in the past that he had met Yoni Netanyahu before Operation Entebbe. He even wrote about it in his book "From These Men: Seven Founders of the State of Israel." What really happened? According to one versio, Peres mistook Netanyahu's deputy, Muki Betzer, for Netanyahu. According to that same version, Peres himself clarified that it was a mistake and even wrote Betzer a letter of apology.

But there is a slightly more accurate version which appears, for example, in Iddo Netanyahu's book, "Yoni's Last Battle: The Rescue at Entebbe, 1976." According to that version, then-defense minister Peres did meet with the commandos, including Yoni. Iddo presents detailed testimonies about the days and hours before the operation, including detailed reports about the meeting between Yoni and Peres.

In any event, investigation reports released in the past, and the testimonies published by Iddo, prove that Peres' involvement in Operation Entebbe was crucial, regardless of whether he had met with Betzer or with Yoni. That's marginal. That's not important. How can anyone claim that a defense minister did not have a crucial influence on such a military operation? And even if Levin were right about the actual meeting – and he is not – so what? What happened? Where's the crime? Peres clearly did meet with the commandos. There was no deception and no malice. Is that a reason for such a despicable attack?

The history of the man and the legend, Shimon Peres, is not examined according to such marginal nonsense. Yes, he was controversial. Yes, he did change his opinions. Yes, he was a politician and not just a statesman. But he seemed to have had so many virtues, that it's unclear what exactly made Levin blast him like that.

Levin is not alone in this game. Former Minister Yossi Beilin was there before him. Another sane person who failed to count to 10 before maliciously eulogizing former minister Benjamin (Fuad) Ben-Eliezer, even before he was buried.

Granted, public life occasionally requires blatant comments in order to gain attention and even headlines. There is no doubt that Beilin and Levin accomplished their mission. They hit the jackpot.

It's sad. Beilin and Levin each have plenty of virtues. What they are doing to others should not be done to them. They made a mistake. A day before Yom Kippur, they should apologize.