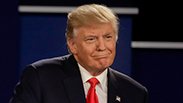 Each society has its own Trump
Photo: AP
During the amazing campaign that put him within arm's reach from the White House, Donald Trump said many things. One of his comments referred to reports about his past actions. "I could stand in the middle of 5th Avenue and shoot somebody, and I wouldn't lose voters," he said.

That turned out to be right, until a certain point. The leaked audio from 2005, in which he boasted of his sexual conquests to Billy Bush and specified the female organs he aimed to grab, was apparently one curse word too many. The past weekend was characterized by a mass flight of Republican officials from what appeared to be a sinking ship. There may be more surprises, but the time in which Trump could shoot someone on the busiest avenue in Manhattan and escape unharmed has passed. Even Trump understands that.

Dozens of books will be written about the 2016 race for the White House. Historians, authors and journalists will wear out their keyboards, trying to explain what happened, how it happened and why.

There is, however, one positive lesson that can already be drawn from Bushgate. It appears that in public life one can't get away with anything. There are expectations, there are values, there are red lines even among those who are fed up with political correctness. Trump was able to abuse all these conventions up to a certain limit. The moment it turned out that he was going lower than what is acceptable in a conversation between men in a bar, the magic expired.

Donald Trump recorded making derogatory comments about women

This lesson also applies to the public domain in Israel. A battle has been waged in recent years over the commemoration of late general and politician Rehavam "Gandhi" Ze'evi. Ze'evi received a state commemoration because he was murdered by the messengers of a Palestinian terrorist organization. Teachers in Israel are instructed to teach his doctrine one day a year; streets, roads and bridges, perhaps even schools, have been named after him; the government has pledged to create a house where his work will be perpetuated.

The problem is that Ze'evi was not an exemplary figure during his life. On the contrary: He was Trump, and worse than Trump. A report by Omri Assenheim, which was aired this year on investigative television program Fact, claimed that Ze'evi had allegedly committed criminal acts, including the rape of female soldiers under his command, sexual harassment, post-factum aid to a double murder in the underworld, acts of terrorism and abuse against his critics and their families, and more. Some of these acts were reported in the past, but Ze'evi, like Trump, was unharmed. The system protected him.

Ze'evi's relatives held negotiations with former Cabinet Secretary Zvi Hauser over the house in which Ze'evi would be commemorated. The family applied a lot of pressure, and Hauser gave in. The selected building is the old Turkish inn at Sha'ar HaGai, a house with symbolic and historical importance and a strategic location. The decision was made against the opinion of veteran members of the Palmach's Harel Brigade, who lost many of their friends in battle there. The building should commemorate us, not Ze'evi, they say. On Friday, they traveled to Sha'ar HaGai to protest the decision.

There was something emotionally moving and impressive in their protest, in the ninth decade of their lives. But with all due respect to their work, the problem raised by Ze'evi's commemoration enterprise does not amount to real estate. Just like millions of Americans have realized, embarrassingly late, that not everything can be accepted, it's time for Israel's decision makers to realize that as well.

Ze'evi's actions are unworthy of commemoration – neither his actions in the army nor his actions outside the army. If the circumstances of his death impose commemoration, it should be done modestly and wisely, not through educational lessons and not on the highway to Jerusalem (someone has already suggested, wickedly, to commemorate him at the Bar-Bakar factory, where his friends murdered their victims).

We are living in a transit period. The American society is searching for its way within a maze of racist, misogynic, outrageous comments. The storm surrounding Trump is a reason to be embarrassed, but it is also an opportunity. Sometimes a bar must be set.

The same applies to Rehavam Ze'evi's legacy. Each society has its own Trump, each society has its own bar.