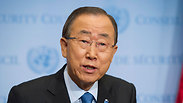 UN Secretary-General Ban Ki-moon distanced himself on Sunday from a recent UNESCO resolution which failed to acknowledge the ties between the Jewish people and the Temple Mount.

Israel suspended its cooperation with the United Nation Educational, Scientific and Cultural Organization (UNESCO), claiming the draft resolution it adopted on Thursday denies the deep, historic Jewish connection to the holy sites in Jerusalem. The resolution refers to the holiest site in Judaism—the Temple Mount—only by its Muslim name—Al-Haram Al Sharif.

"The Secretary-General reaffirms the importance of the Old City of Jerusalem and its Walls for the three monotheistic religions and stresses the importance of the religious and historical link of the Jewish, Muslim and Christian peoples to the holy site," said a statement read by the UN Spokesperson on behalf of Ban.

"The Al Aqsa Mosque/Al-Haram al-Sharif, the sacred shrine of Muslims, is also the Har HaBayit—or Temple Mount—whose Western Wall is the holiest place in Judaism, a few steps away from the Saint Sepulcher church and the Mount of Olives, which is revered by Christians," Ban added.

He noted that "any perceived undertaking to repudiate the undeniable common reference for these sites does not serve the interests of peace and will only feed violence and radicalism" and called on all sides "to uphold the status quo in relation to the holy sites in the Old City of Jerusalem."

UNESCO director-general Irina Bokova has already distanced herself from the resolution, emphasizing in a letter to Zionist Union MK Tzipi Livni, sent in response to a letter Livni had sent, that "such decisions are discussed and taken by the Member States and not by" the director general herself.

She stressed her organization works "to fight intolerance and contemporary forms of anti-Semitism, including those which seek to delegitimize the State of Israel."

Bokova further repeated her statements from April, July and this week that "the Old City of Jerusalem is the sacred city of the three monotheistic religions—Judaism, Christianity and Islam, and that Jewish (sic), Christians and Muslims have a right to the explicit recognition of their history and relationship with the city."

A previous version of this story erroneously attributed the quotes to UN Secretary-General-designate Antonio Guterres.