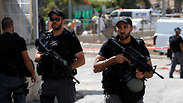 Scene of last week's attack in Jerusalem
Photo: Reuters
The dance begins after every act of terror: Who is to blame for terror? The Left blames the Right's policy, the Right continues to accuse the Left of "giving them rifles," the radical right accuses the judge who released the terrorist and Minister Gilad Erdan blames Facebook.

Most of these arguments are foolish, because when the Left was in power and "gave hope," there was just as much terror, and now that the Right is in power terror continues. When there is no Facebook there are countless other ways to incite. The judge who released the terrorist is not guilty of anything, because many others have been released and have not gone out to murder Jews.

The ones who are guilty of terror are those who carry out acts of terror, those who incite to these acts and those who support them. It has nothing to do with either the "left" or the "right." The terrorists don't care about this exchange of accusations between us. They are someplace else. Terror continues because there are those who incite and there are those who support and there are those who fund and there are those who brainwash. Billions of dollars funneled from Saudi Arabia and Qatar to almost every place in the world, even in the West, have created a jihad awareness.

Those who fund anti-Israel propaganda, including Western states which support bodies that are part of BDS, carry some responsibility for the incitement that leads to terror as well. England, in a surprising move, halted funding to the Palestinian Authority last week because the money is also being used to fund terrorists. There are terror and supporters of terror also in Germany, which is embracing Muslims, and there is terror in northern Nigeria, in areas controlled by the Sharia law. Of jihad's 1,165 victims in September around the world, just two, only two, weren't Muslim.

There will always be someone who will argue that jihad is carrying out a mass murder, mainly against Muslims, because of the occupation, but those raising these claims are worthy of hospitalization, not a serious response.

***

UNESCO is also advancing the propaganda which serves terror. This is a body which is supposed to engage in education, culture and science, but like all other international bodies, it is controlled by a majority of dark states too. In the past year, it adopted a resolution that the Jewish people have no ties to the Temple Mount. Here we have it: Hamas and jihad propaganda receiving international aid. Germany, the United States and Britain voted against the resolution. Sweden and France voted with the dark majority. The French president, prime minister and Senate president issued statements of regret.

Last week, an allegedly softened motion was raised for discussion, talking about the three religions' ties to Jerusalem. But the motion includes the usual anti-Israel propaganda, including many words about the destruction of Palestinian education by Israel.

Destruction? Gabi Baramki, former president of Birzeit University, admitted that "before June 5, 1967, no universities existed in the West Bank and in the Gaza Strip." Under Israeli rule, and with Israeli encouragement, 11 universities, 13 university colleges and 19 communal colleges developed there. Forty-three higher education institutions. There are results. According to a Palestinian, study, "The Palestinians have the highest rate of university graduates in the Arab world." But UNESCO is calling it "destruction." As I write these words, it is unclear how France voted on Thursday.

Israel too supports a body which serves the propaganda of terror. Yes, Israel. The Miluimnikim BaHazit (Reservists on Duty) movement, led by Amit Deri, recently published a comprehensive document on Israel Social TV – a media outlet which accuses, or whose leaders accuse Israel of terror, support refusing orders, join petitions calling for a boycott against Israel and basically support the fantasy called "the right of return." The channel's representative, Yehudit Ilani, escorted the Zaytouna boat which tried to reach Gaza, likely not just as a journalist. She also serves as Knesset Member Hanin Zoabi's assistant. In other words, Israel Social TV, under any objective standards, belongs to the BDS circles. If not officially, then definitely propaganda-wise.

The thing is that Israel, not Iran, not Sweden, provides this body with governmental funding. From 2008 to 2014, the channel received $250,000 in support from the New Israel Fund (which officially opposes BDS and basically funds bodies serving the BDS campaign) and $669,000 from European foundations and states. So far, there is nothing new here. The absurdity lies in the fact that the Israeli Ministry of Communications – not the Palestinian one – transferred to this body $25,000 in funding. And the Council for Cable TV, it should be added, allotted a cable channel for this anti-Israel propaganda.

When Amir Deri released the report about the channel, claims of "silencing" where immediately raised. Well, Israeli democracy can and should allow such bodies freedom of expression. But it is only in a foolish country that such a body, which is ideologically located between BDS and Balad, can receive funding from the Israeli government and four (!) national service positions. Forget about the Right. After all, it is a right-wing government which is funding this body. Where the hell is the Zionist left? Why is it not clarifying that this is an absurdity? Why is it not setting red lines?

***

The Culture Ministry has decided to allow Einat Weizman's play, "Palestine Year Zero," to participate in the Acre International Fringe Theater Festival. Let's put the content of the play aside for a minute. Even critical, and very critical, plays have the right to exist. The more fascinating issue is how Weizman managed to receive funding from a public body, Mifal HaPayis, and find a way into a state-funded festival.

Weizman does not conceal her opinions. She is active in an NGO which opposes a Jewish state, she is in favor of Apartheid Week created by the BDS, and she is in favor of boycotting Israel. The play was written with the help of that same NGO she is active in, which supports Israel's destruction through the "right of return." There are more moderate voices in the Palestinian Authority than the voices of this NGO's members. If and when progress is made towards peace, Inshallah, the members of this NGO will be part of the Palestinian rejectionist front. They will not settle for less than eliminating "the Zionist criminal."

Most left-wing artists voice legitimate opinions. They can be supported and they can be opposed. Few hold ultra-anti-Zionist opinions like Weizman's, who endorsed the Joint Arab List before the latest elections.

So the problem is not what the culture minister will say or won't say. The question is how can someone who supports a boycott against Israel, and who is basically against the state's existence, think that she is entitled to any aid from the state in order to promote her agenda, which is based on the state's destruction. Where the hell does she get this nerve?

As for its content, it is unnecessary to mention that this play belongs to the propaganda which characterizes the anti-Zionist left, the kind of propaganda which provides justifications for anti-Israel hatred and terror. And the State of Israel is funding it. I have said it before and I must say it again: What a foolish state.