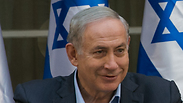 Tablet magazine even suggested giving Netanyahu the Nobel Peace Prize
Photo: Ohad Zwigenberg
Netanyahu's critics have discovered the 'villa in the jungle'
Op-ed: US liberal public opinion leaders, especially the Jews among them, are undergoing a deep revision. In closed conversations, many are voicing an agreement with the official Israeli approach that 'there is no one to talk to' on the other side.
I have always been against the occupation and in favor of leaving the territories, preferably by consent. However, an abyss lies between opposing the occupation and the B'Tselem representatives' participation at a United Nations Security Council session on the settlements. This is neither the time nor the place for such participation. It does not contribute to their humanistic and moral targets. It seriously damages them.

During my last visit to Washington, I met with one of the most prominent and leading media personalities in the United States, who has not spared his criticism of Israel's governments in general and Prime Minister Benjamin Netanyahu in particular. I found a contemplative and restrained person. The reality in the Arab arena, he said to me, has slapped many people in the face. It has exposed trends of violence and cruelty at volumes which we have not witnessed for decades.

You can't ignore half a million dead in Syria, he added, while focusing on the humiliating behavior of two Border Guard officers at a roadblock in the West Bank. And people can't say that these things are not connected. They are, at least priority-wise: The international occupation with Israel's conduct in the West Bank is nothing but an attempt to evade the heavy responsibility for the mass murder taking place in Syria.

As for Netanyahu, my interlocutor concluded, his worldview has won. The 'two-state' solution has been buried, and all that is left for Bibi to do is to manage the current complex situation, which he is attempting to treat as a permanent solution. I am not dismissing the possibility that he will succeed, at least in the medium term.

These are not unusual comments. They reflect a deep revision among liberal public opinion leaders in the US, especially the Jews among them. Quietly, in closed conversations, many of them are voicing an agreement with the official Israeli approach that "there is no one to talk to," or at are at least saying that they understand the despair regarding the Arab leadership, any Arab leadership, as a partner for an agreement.

Now we see, these liberals told me, that those who described Israel as "a villa in the jungle" were right. But the jungle is more dangerous than we thought, and the villa is more exposed than we thought. An expression of this new spirit could be found this week in the usually left-wing Jewish American magazine Tablet, which seriously suggested that Netanyahu should receive a Nobel Peace Prize for his contribution to Mideast stability.

The occupation is bad for Israel, late Prime Minister Ariel Sharon said, and he was right. It's a shame we didn't follow his way years ago. But I am a realist and I see reality. The settlements are not the obstacle to peace; it is the ideology and policy that are derived from them. And here, even a former optimist like myself finds it difficult to see in the horizon any signs of a change for the better, not here and definitely not on the other side. While the Jewish-secular nationalism is collapsing, the Arab nationalism which one could talk to has been erased, and replaced with fanatic and merciless religious violence. There is no way to talk to it. The Jewish liberals in America understand that too, yet it's not easy for them to deal with these truths.

I am proud of the activity and existence of B'Tselem. Its activists are brave and worthy of appreciation and gratitude: A nation which loses the voice of its conscience is committing suicide. But why cooperate with an initiative whose only purpose is to make us forget the enlightened world's failure to deal with the horrible massacre in Syria and direct the spotlight at us? How does such a hypocritical discussion contribute to an understanding between the people, to justice, to reconciliation? It doesn't. All it does is feed radicalism.

The Left, which failed to detect the rise of populism on time, is in the process of a global retreat. It is shutting itself off from reality and cursing it from its place of seclusion. B'Tselem wasn't like this in the past, and I hope it won't be in the future. I hope that its participation in the unnecessary Security Council discussion was just a one-time blunder.