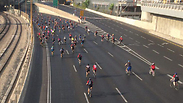 Last year's Tel Aviv race
TA roads temporarily close Friday as city bike race gets underway
For the eighth year, roads closed from the early hours of Friday morning as thousands of cyclists ride the streets of Tel Aviv on tracks ranging from 8-60 kilometers; meanwhile, a marathon between Rosh Ha'ayin and Shiloh shuts down traffic on Route 5
A number of roads will be closed from 4am until 1pm Friday as a bicycle race gets underway in Tel Aviv. The police have called on the general public to avoid driving in the Tel Aviv area.

Dedicated parking lots are prepared to take in vehicles belonging to participants of the race free of charge.

The race is the eighth of its kind and includes four different tracks ranging between 8-60 kilometers. The festival 'Bicycles in the big city' will be held in Rabin Square which will see the erection of interactive content stations from the world of sports and healthy lifestyles throughout the premise. Service stations for bike maintenance will also be open to budding cyclists.

Mayor of Tel Aviv-Jaffa Ron Huldai praised the culture of cycling, which has been conspicuously reinvigorated across the city. "When we started the promote rising on bikes as a central mode of public transport in the city, few believed that our residents and visitors would be willing to give up on private cars and pedal to work, studies and daily errands," he said. "Today, the streets are full of businessmen with ties on their way to their offices, with parents on their way with their children to kindergarten and with students on their way to schools and colleges."

He also added that the city was pumping resources into making the city more bicycle-friendly. "In addition to the transport revolution and the cultural change, we are also investing in the expansion of the infrastructure of bicycle lanes and legislation and enforcement which will enable everyone, pedestrians and cyclists, to to use the city roads and sidewalks safely."

The race will begin from the parking lot at Ganei Yehoshua next to the Luna Park, and will continue along various main thoroughfares in the Gush Dan area. These thoroughfares will be shut down to traffic.
Traffic to be shut beginning at 4:00am
Shai Agnon Street will remain closed to traffic between Levi Eshkol and Even Gvirol in both directions. Bnei Efraim/ Rokach Blvd will be closed to traffic between KKL to Even Gvirol in both directions. Ha'taarucha Street will be closed from Even Gvirol to Dizengoff in both directions.
Thoroughfares along the beach: Yarkon Street, Herbert Samuel, and Kaufmann streets will be closed in both directions. Jerusalem Blvd will be closed to traffic between Harav Heller Street to Eilat Street in both directions. Salame Street will be closed to traffic between Herzl Street and Jerusalem Blvd in both directions. Kibbutz Galuyot street will be closed between Salame and Herzl streets in both directions. Shlavim Street and Heinrich Heine Street will be closed to traffic from Kibbutz Galuyot Street to HaLochamim Street in both directions.
The Ayalon Highway will be closed to all southbound traffic starting at 4:30am between Shiv'at Ha'kochavim Interchange to Wolfson Interchange. Glilot Interchange with Route 20 will also be closed south of Route 5.
The southbound onramp onto Route 20 from KKL Interchange will be closed to all traffic, as will Rokach Interchange in both directions. The Ayalon Highway will be closed to traffic in both directions between Rokach Blvd and Tel Aviv University. The northbound onramp at Merkaz Hayeridim interchange will be closed on the Ayalon Highway.
The southbound onramp at Hahalacha interchange will be closed to traffic, as will Hashalom Interchange. The southbound onramp at Holetz/Heil Hashiryon interchange will also be closed, as will the southbound onramp at Holon Interchange.
Biblical Marathon
Meanwhile, there will be a Biblical Marathon which will see runners run from Rosh Ha'ayin to Shiloh. Route will be eastbound will be closed to traffic from Kesem Interchange to Barkan Interchange from 4:30am to 7:30am. Route 5 from Ariel to Tapuah junction will be open in both direction throughout the marathon.